The 2017 Atlantic Hurricane Season has finally come to an end. We finish with 17 named storms – ten of which became hurricanes, and six of those ten reached category 3 strength or higher. Names like Harvey, Irma, and Maria are ones we won't soon forget.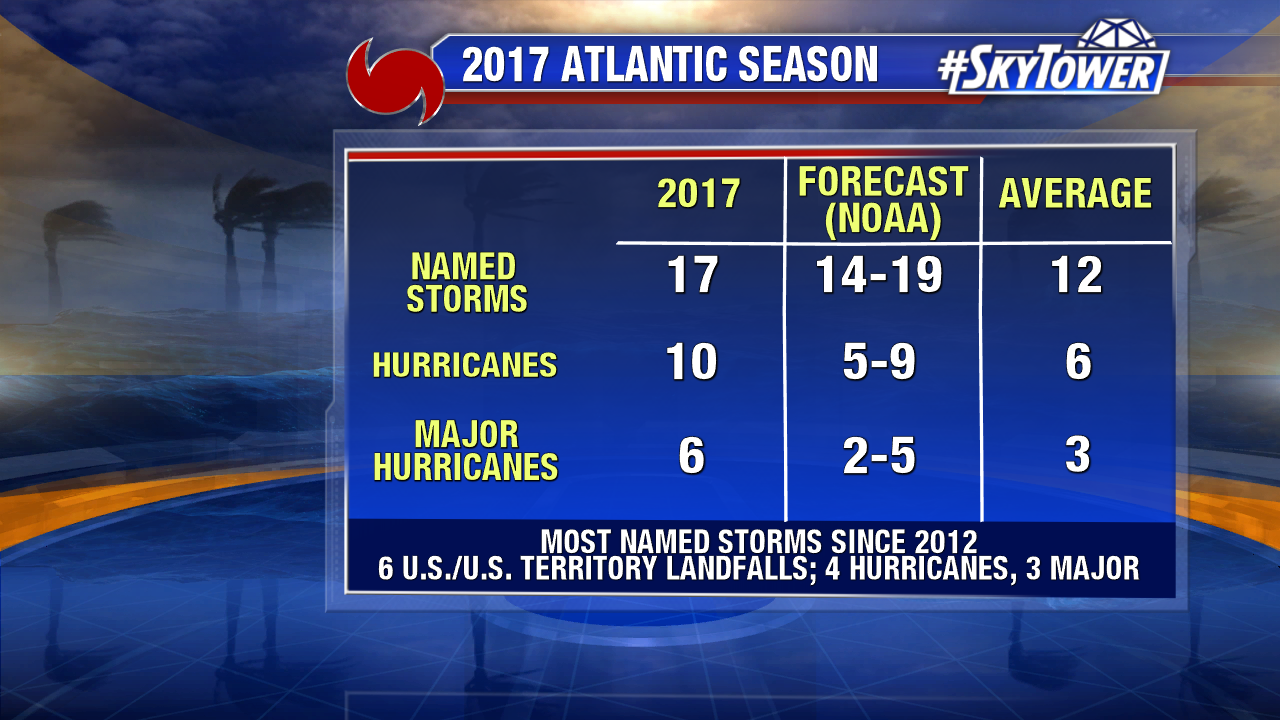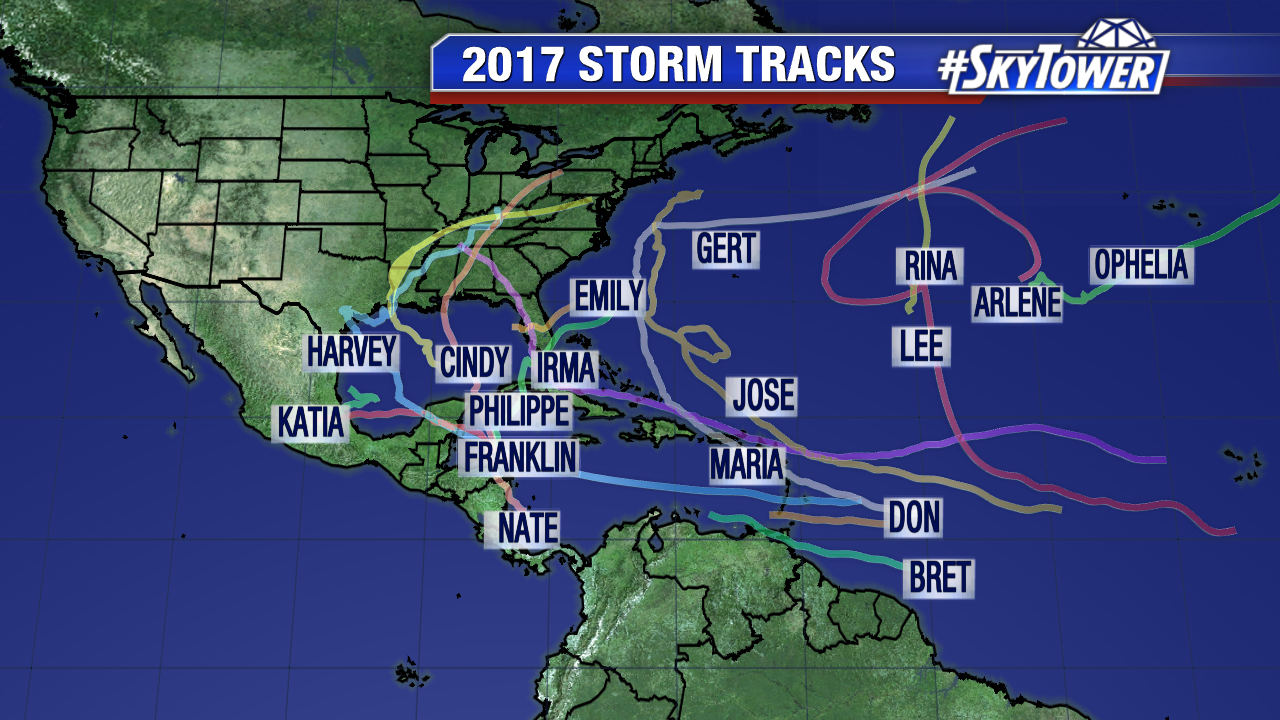 The season got started early. Tropical Storm Arlene formed on April 20th in North Atlantic. It was the second earliest tropical cyclone to form in the Atlantic since the satellite era began (1966). Then came Tropical Storm Bret two months later. It was a weak storm just north of South America that only lasted about 24 hours. One day later, Tropical Storm Cindy formed in the Gulf of Mexico. It brought heavy rain to the central Gulf Coast, with nearly 19″ falling in Ocean Springs, MS. It was the first of what would end up being 6 named storms to strike the U.S. and its territories this season.
After a few quiet weeks, two more tropical storms formed in late July. Don was short-lived and brushed the Windward Islands. Tropical Storm Emily formed on the tail end of a cold front about 75 miles west of Tampa Bay. It made landfall on Anna Maria Island with 45 mph winds. In a typical season we see only one storm form before August 1st. With five already in the books, 2017 was off to hot start.
Below: Tropical Storm Emily makes landfall on July 31st.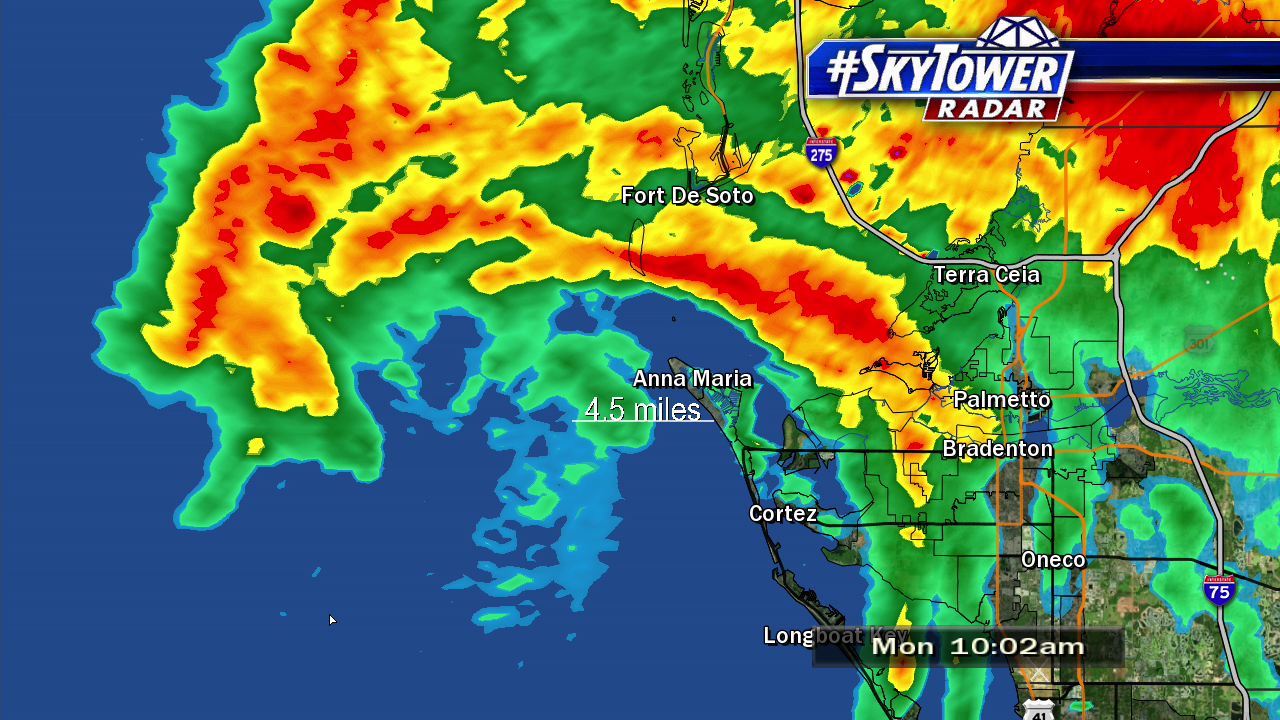 Thanks to weak vertical wind shear, weaker trade winds, more conducive wind patterns coming off of Africa, and a stronger west African monsoon it was always forecast to be an above average year in terms tropical activity. The National Oceanic and Atmospheric Administration's (NOAA) original outlook for the 2017 season, issued in May, had a 45% chance of an above-normal season and a 35% chance for near-normal activity. When the updated outlook was released in early August, the chance of an above-normal season had increased to 60%. Weak La Niña conditions were expected to persist through the fall and there was very little, if any doubt, that the second half of the season was going to be extremely active.
The very same day the updated outlook was released, Hurricane Franklin formed in the Bay of Campeche. It was our first hurricane of the season and the first of ten straight hurricanes that ended up forming this season. Franklin was a minimal category 1 storm, but it still brought extremely heavy rainfall and a storm surge of 4-6 feet to eastern Mexico. It was just five days later when our second hurricane of the season, Gert, formed over the Gulf Stream about halfway between Bermuda and the United States. It ultimately didn't have any direct impact on land, but both Franklin and Gert were precursors of what was to come.
Harvey: Harvey formed from a tropical wave just east of the Lesser Antilles on August 17th. After bringing wind and rain to the tiny islands it made its way into the Caribbean Sea. Upon encountering an area of strong wind shear, Harvey weakened dramatically and it seemed as if its days were numbered. However, after crossing the Yucatan Peninsula and emerging into the southwestern Gulf, rapid intensification began. It would strengthen from a tropical storm to a category 4 hurricane in less than 36 hours before making landfall near Rockport, TX with 130 mph winds. It was the first major hurricane of the season and first major hurricane to hit the U.S. since Wilma in 2005.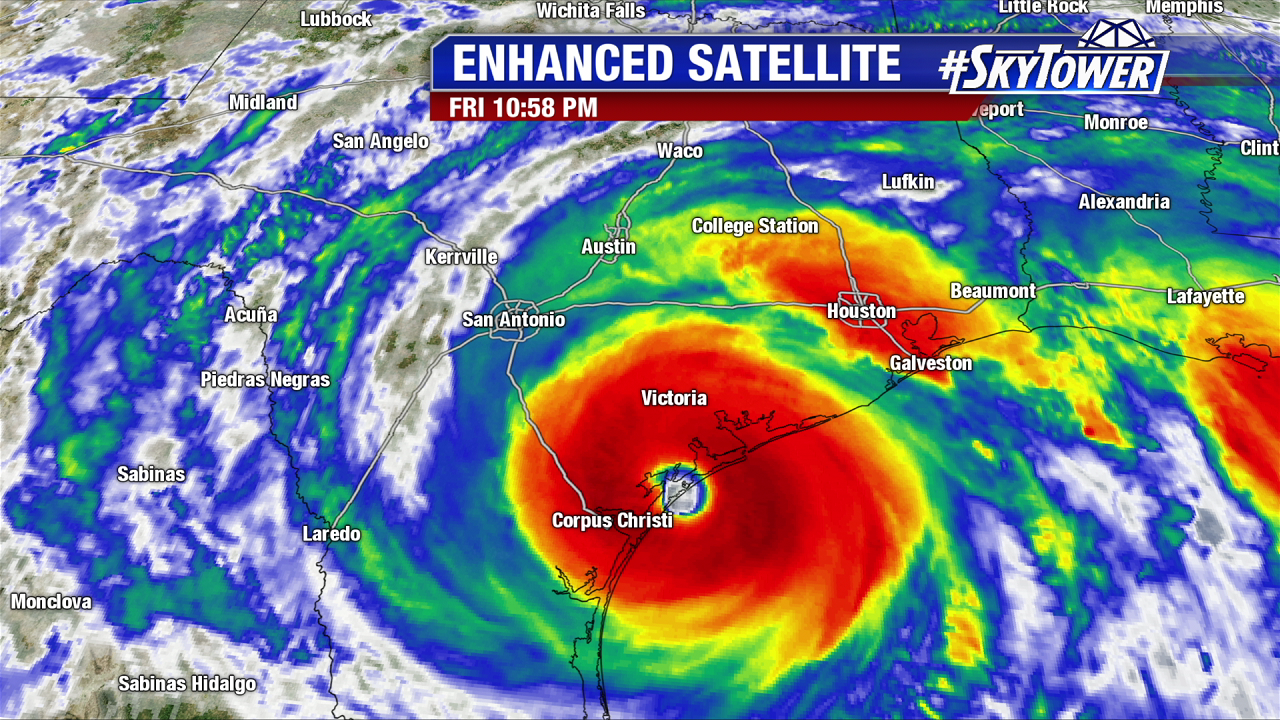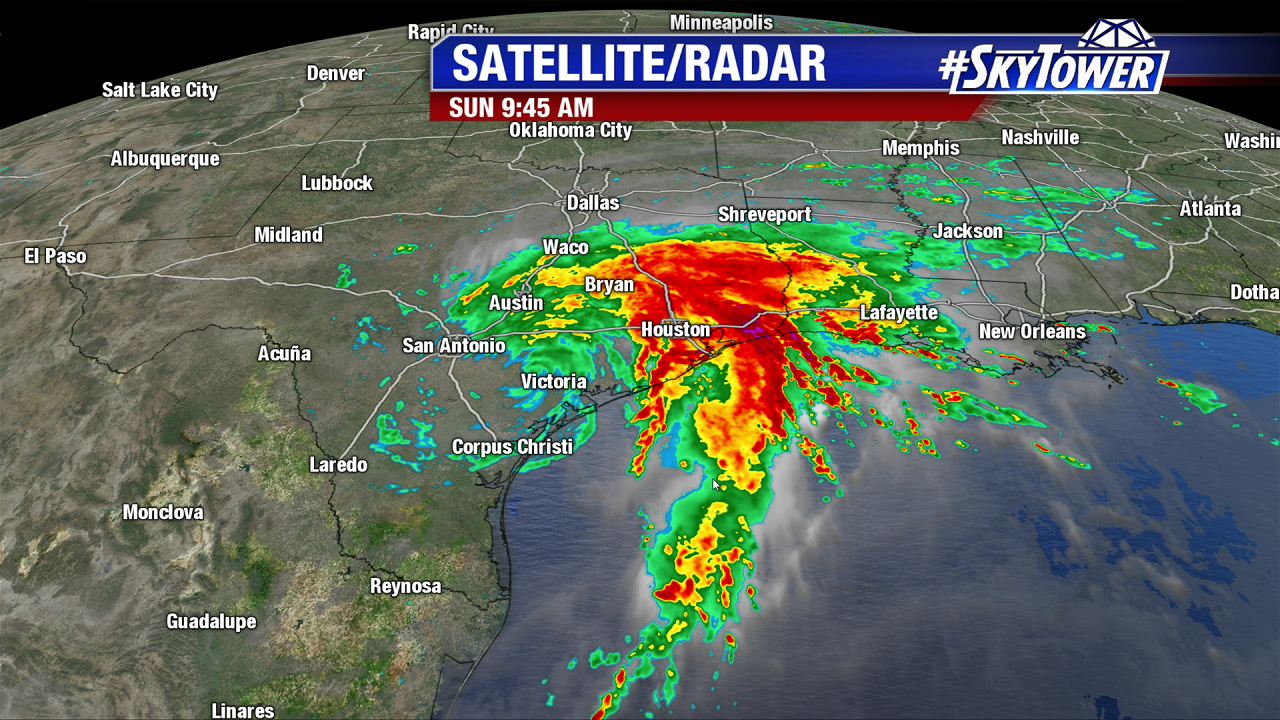 After devastating southeast Texas, a complicated upper-level pattern led to a slow-moving heavy rainmaker for the rest of coastal Texas and Louisiana. The Houston area was hit particularly hard. As much 60″ inches of rain fell in spots over a 5 day period. This led to unimaginable flooding across large swaths of the city. It would lead to one of the largest rescue efforts in U.S. history. Harvey will be remembered as the wettest tropical cyclone of all time and one of the costliest hurricanes on record to ever strike the U.S..
Irma: Like Harvey, Irma formed from a tropical wave that rolled off the coast of Africa. It formed much further east though, near the Cabo Verde Islands. It became a tropical storm on August 30th and proceeded to make its way across the Atlantic over the next 11 days. It strengthened into a category 5 storm on September 5th and remained at that intensity for 3 consecutive days. During that stretch, Irma went directly over parts of the Leeward Islands, including Barbuba and St. Maarten. It was the strongest storm to ever impact this part of the Caribbean.
In the coming days, Irma would inch closer to U.S., clipping tiny islands along the way. Tensions were high all across the southeastern U.S. as models worked out a solution for the storm's eventual path. Irma ultimately held a more westerly track, taking it along the northern coast of Cuba before making a northward turn and heading up through the state of Florida. On September 10th, Irma made landfall as a category 4 storm in the Florida Keys, near Cudjoe Key, with 130 mph winds. A storm surge of over 10 feet was recorded in parts of the Keys. A second landfall then took place a few hours later on Marco Island as a category 3 storm with 115 mph winds.
For Tampa Bay, there was a high level of concern leading up to Irma. The area hadn't been hit by a major hurricane since 1921 and is incredibly vulnerable to storm surge. The fear was that Irma would stay a little further west bringing the core of the strongest winds up the coastline while also presenting a higher storm surge threat. In the end, the storm held its northerly track after hitting Marco Island. This brought the most destructive winds (100+ mph) up through Hardee, Highlands, Desoto, and Polk county. Areas like Tampa and St. Petersburg still saw wind gusts to category 1 strength. Tampa Bay ended up with an offshore wind for most of the event, leading to a negative storm surge. This actually lowered water levels in coastal areas by several feet. Meanwhile, storm surge on the east coast of the state, as well up through the Carolinas, was much more significant due to an onshore wind. Irma was a massive storm, and tropical storm force winds made it as far north as Tennessee.
Below: Residents walk on the dry seabed of Tampa Bay along Bayshore Blvd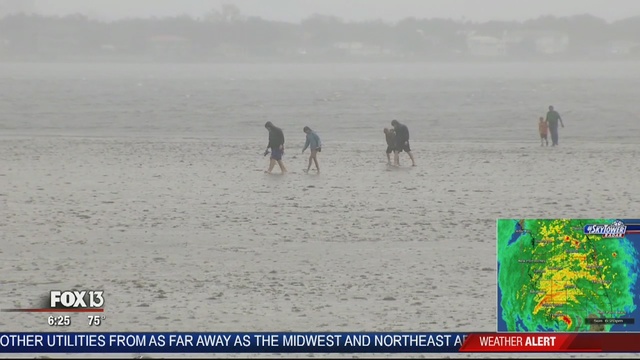 Irma was the first storm in what would end up being the most active most September on record in many respects. The day before Irma made landfall in Florida, Hurricane Jose was at peak intensity – category 4 with 155 mph – as it brushed the Leeward Islands; the same area hit hard by Irma less than a week before.
Below: GOES-16 captures Hurricane Irma (left) and Hurricane Jose (right) over the Atlantic on Sep 7th – courtesy NOAA.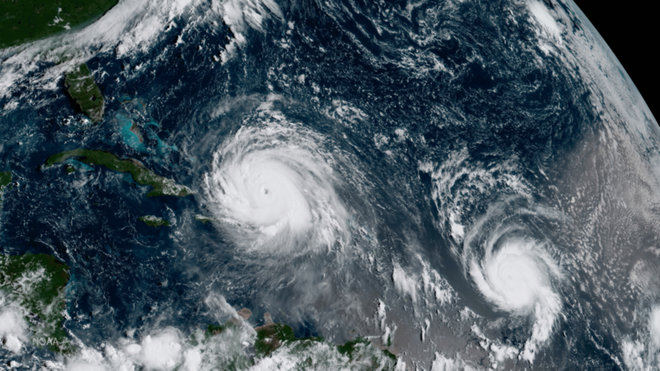 Around the same time, Hurricane Katia formed and made landfall in eastern Mexico. At one point, Irma, Jose, and Katia were all at category 2 strength or higher. According to Dr. Klotzbach at Colorado State University, the last time we had three category 2+ storms at the same time in the Atlantic Basin was 1893. About a week later, Tropical Storm Lee formed near the coast of Africa. It was never destined to impact any land, but the tiny storm managed to linger in central Atlantic for two weeks, peaking as a category 3 hurricane. It was the 7th straight hurricane, and 4th major hurricane, to form in the Atlantic this season.
Maria: On September 17th, Tropical Storm Maria became a hurricane. It ended up being the 3rd major hurricane in a two week period to impact the Leeward Islands. Maria wasn't done yet though. It headed straight for Puerto Rico, making landfall on the southeastern coast of the island on September 20th as a strong category 4 storm with winds of 155 mph.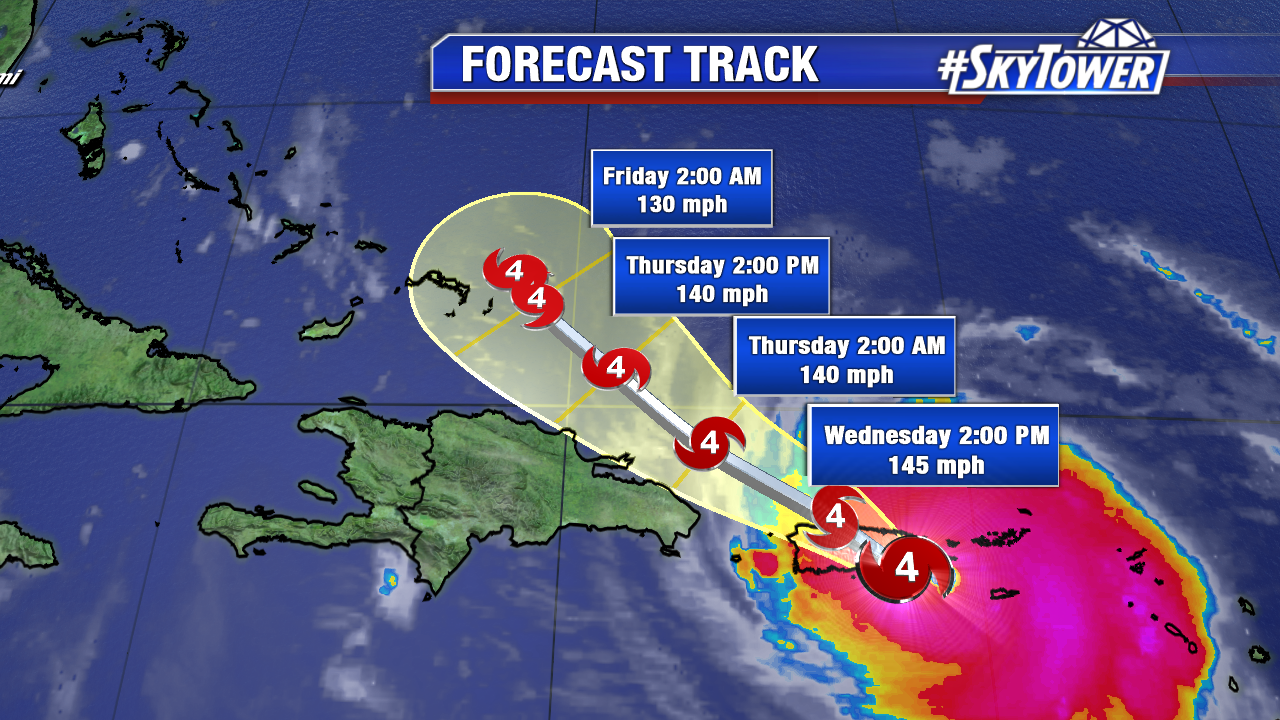 Maria was the strongest hurricane to make landfall in Puerto Rico since before the Great Depression. It decimated the infrastructure of the island to the point that it will likely take years for them to make a full recovery.
Below: Before and after satellite images of Puerto Rico – courtesy NOAA. You'll notice the loss of power (top) and loss of vegetation (bottom).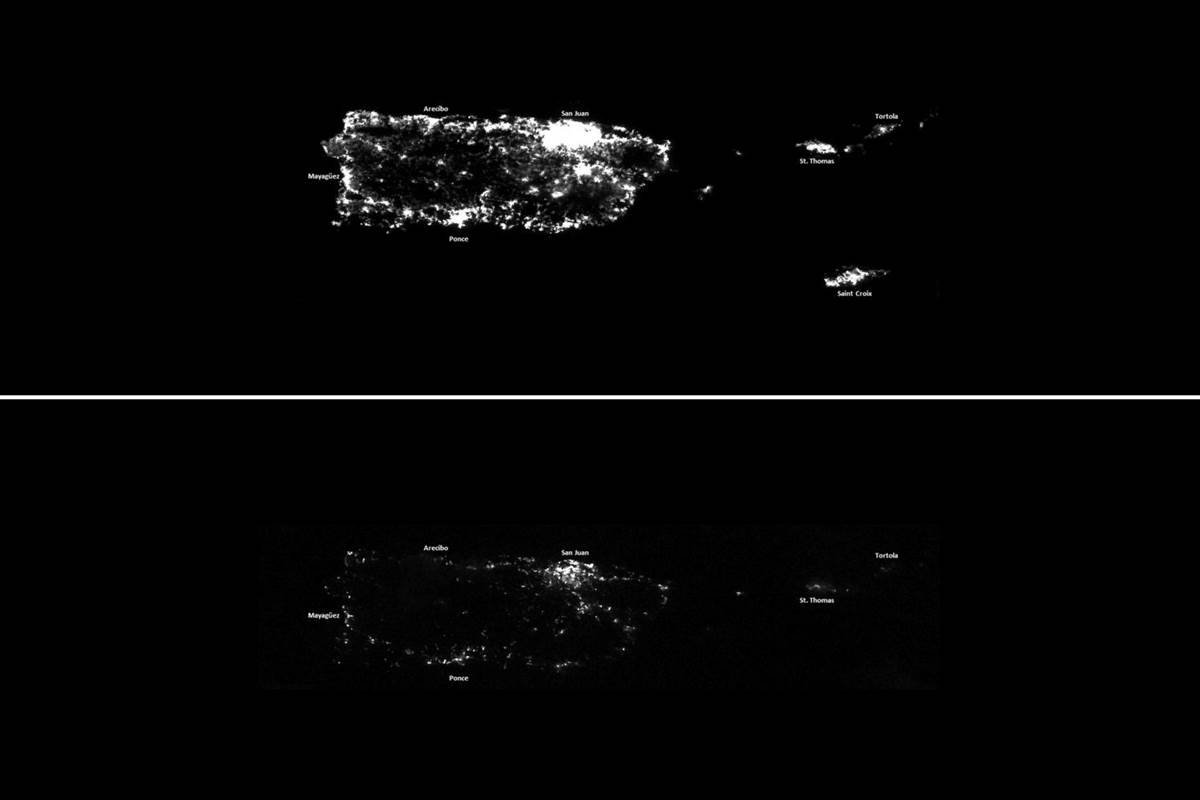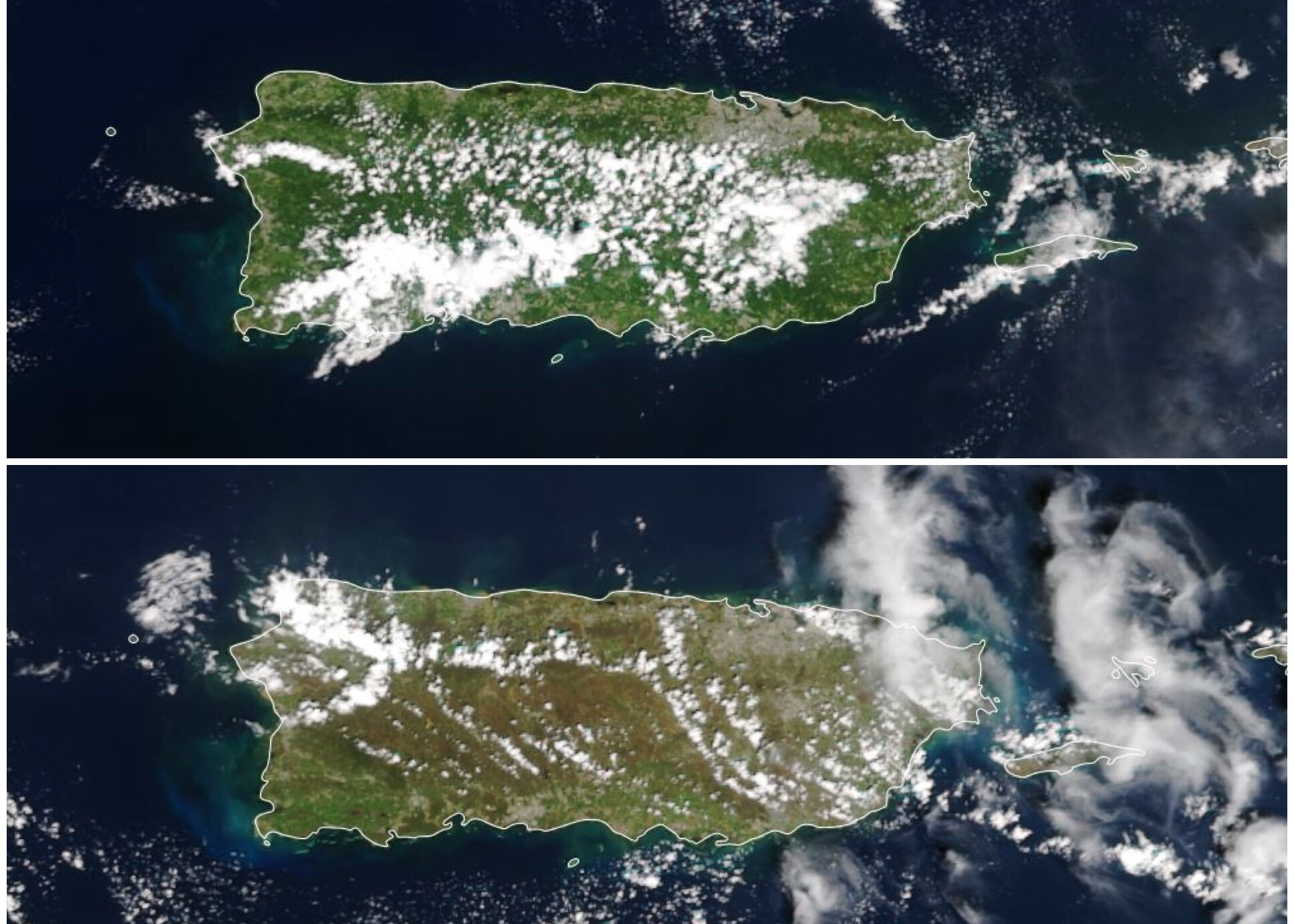 When October began, all eyes turned to the western Caribbean – a common formation area at that point in the season. Sure enough, Tropical Storm Nate formed in this area on October 5th and became a hurricane a day and a half later. It headed due north, where it first made landfall near the mouth of the Mississippi River as a category 1 hurricane, then again near Biloxi, MS. All things considered the outcome could have been a lot worse. Fortunately, this would be the last U.S. landfall of the season.
Not long after Nate, Hurricane Ophelia formed in the Central Atlantic. It was the 10th consecutive hurricane to form. It ultimately became a major hurricane – the farthest east on record. It lost tropical characteristics, but still brought hurricane-force winds to Ireland and the United Kingdom. Later in October, a weak Tropical Storm Philippe formed in the western Caribbean and moved northeast across Cuba and the Bahamas. Parts of South Florida did see heavy rain and a few tornadoes, but impacts were minimal. In early November, the last storm of the season, Tropical Storm Rina, formed in the central Atlantic. It lost tropical characteristics a few days later in the north Atlantic.
2017 Atlantic Hurricane Season Stats & Records
– 3rd consecutive year a storm formed in the Atlantic before June 1st
– Most named storms since 2012
– Most expensive U.S. hurricane season on record – $202.6 Billion
– Most consecutive hurricanes in a single season (10) – tied with 1878, 1886, 1893 according to Dr. Klotzbach (CSU)
– 5th most active season in terms of Accumulated Cyclone Energy (ACE) – behind 1893, 1926, 1933, and 2005.
– September: Highest ACE ever recorded in a single month
– Irma: Longest period of 185+ mph winds for a single storm (37 hours)
– Irma: 2nd strongest Atlantic hurricane on record based on wind speed (185 mph)
2017 Named Storms
Arlene          April 19-21         Max Winds: 50 mph
Bret             June 19-20         Max Winds: 45 mph
Cindy           June 20-23         Max Winds: 60 mph
Don              July 17-18          Max Winds: 50 mph
Emily         July 31 – Aug 1      Max Winds: 45 mph
Franklin          Aug 6-10          Max Winds: 85 mph
Gert             Aug 13-17           Max Winds: 105 mph
Harvey       Aug 17 – Sep 1     Max Winds: 130 mph
Irma          Aug 30 – Sep 12    Max Winds: 185 mph
Jose             Sep 5-22            Max Winds: 155 mph
Katia             Sep 5-9              Max Winds: 105 mph
Lee              Sep 15-30           Max Winds: 115 mph
Maria           Sep 16-30           Max Winds: 175 mph
Nate              Oct 4-9              Max Winds: 90 mph
Ophelia         Oct 9-15            Max Winds: 115 mph
Philippe        Oct 28-29           Max Winds: 60 mph
Rina               Nov 6-9             Max Winds: 60 mph
Blog produced by Meteorologist Tyler Eliasen & Meteorologist Lindsay Milbourne