We've had Invest 99L on the map for a while now as it has made its way across the Atlantic over the last week and a half or so. It's a disturbance that refuses to give up, but has never been able to gain any ground due to an on & off battle with wind shear and dry air.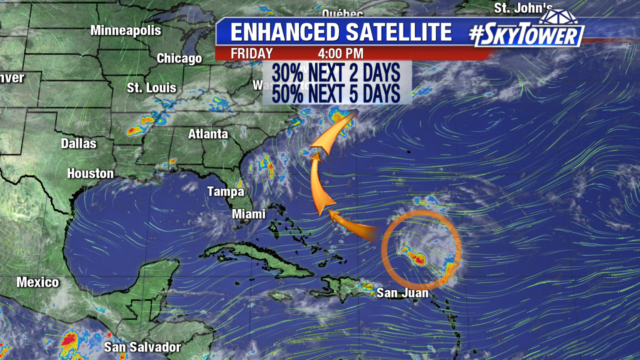 On Friday afternoon, it was a couple hundred miles north of Puerto Rico. There have been flare-ups of convection at times, but still no indication of a closed circulation. Upper level winds are becoming a little more favorable for development as we head into the weekend, but it will still have to contend with some pockets of dry air. The National Hurricane Center currently has development odds at 50% over the next 5 days. However, our latest model runs still aren't too excited about any development with system… keeping it an open wave through the rest of its journey.
Whether or not a tropical depression, or even Gert, forms; steering flow should keep this well offshore as it moves north and northeast up the eastern seaboard.