By next week, it's possible that we'll be tracking two named storms in Atlantic. On Friday afternoon, Invest 90L was located in southern Caribbean Sea, while Invest 99L was out in the open Atlantic, several hundred miles southwest of the Cabo Verde Islands.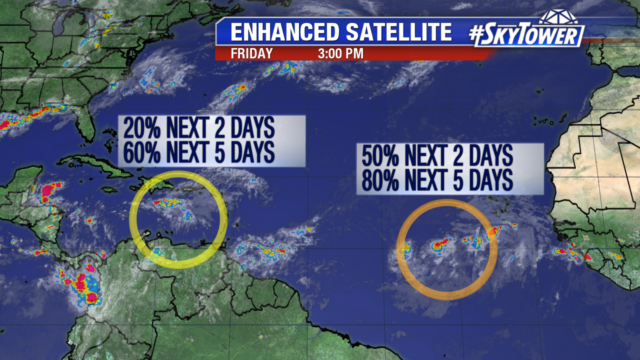 Invest 90L is battling quite a bit of wind shear in the short term and is currently nothing more than a disorganized area of showers & storms. However, environmental conditions should become more favorable for development as it emerges near the Yucatan Peninsula early next week. There is growing model support that we may have a tropical storm or hurricane in the Bay of Campeche by the middle of next week, which could then make a run at eastern Mexico or southern Texas.
Invest 99L certainly bears watching as well. It is in a pretty good environment for further development, but is taking its sweet time getting organized. If it can get its act together, it should take advantage of an increasingly favorable environment over the next few days as it moves west-northwest toward the northeastern Caribbean. Beyond that, it is still too early to speculate whether or not it will have any U.S. impacts.
Below is the 12Z GFS Ensemble MSLP and the 0Z Euro Ensemble MSLP valid for next Wednesday evening. Images courtesy of Tropical Tidbits.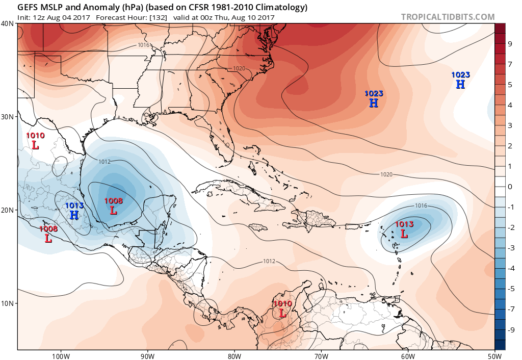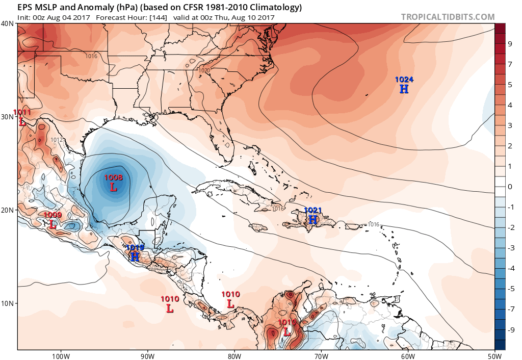 Time is certainly on our side, as we'll have several days to keep an eye on both of these systems.