And just like that, we have two new areas to watch in the Atlantic basin. The first is a tropical wave in the southern Caribbean Sea just west of the Lesser Antilles (Invest 90L). Conditions over the Caribbean Sea should become a little more favorable over the weekend and into next week as this system moves west-northwest 15-20 mph. Overall, the National Hurricane Center (NHC) is currently only giving this a 20% chance of development over the next 5 days.
The second area we're keeping an eye on is a rather robust wave (Invest 99L) that came off the coast of Africa over the last 24 hours . It's combating some moderate wind shear and marginally warm sea-surface temperatures at the moment, but conditions will become more favorable for development as this moves off to the west-northwest over the next several days. The NHC is now giving it a 70% chance of development.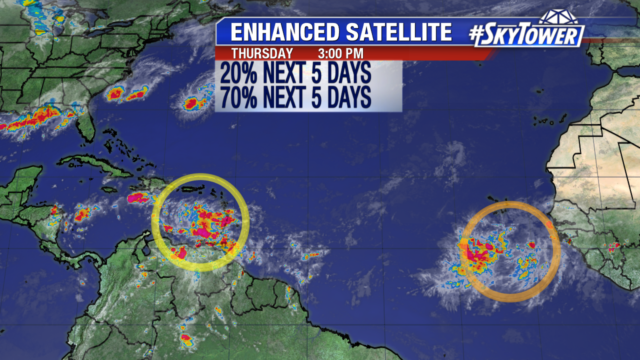 As is usually the case when we're talking about anything a couple thousand miles away, it's way early to speculate about any impacts. Any model solutions a week or more away really can't be trusted, especially with tropical systems. To give you an idea, latest runs of the GFS and CMC really ramp up this storm fast over the Central Atlantic, while the ECMWF has absolutely nothing. So for now. we watch and wait.