The 2014 Atlantic hurricane season wraps up Sunday
with 8 named storms, 6 hurricanes and 2 major hurricanes. With just 8 named storms this is the fewest number of named storms since 1997. In an average Atlantic season there are 12 named storms, 6 hurricanes and 3 major hurricanes, so there was a below average number of named storms but
the number of hurricanes was in line with climatology. Forecasts by NOAA and Dr. Gray and his colleagues at Colorado State were accurate in 2014. El Niño did not develop this hurricane season but conditions featured El Niño characteristics like cooler than normal Atlantic water temperatures at times, extended stretches of enhanced wind shear and dry sinking air.  This year's ACE or Accumulated Cyclone Energy of 66 was relatively low based on the below average 8 named storms. ACE measures the total energy output of all tropical systems during the entire hurricane season. Meanwhile in the east Pacific there are 22 named storms, a record 16 hurricanes and 9 major hurricanes. This is the most active east Pacific hurricane season since 1992.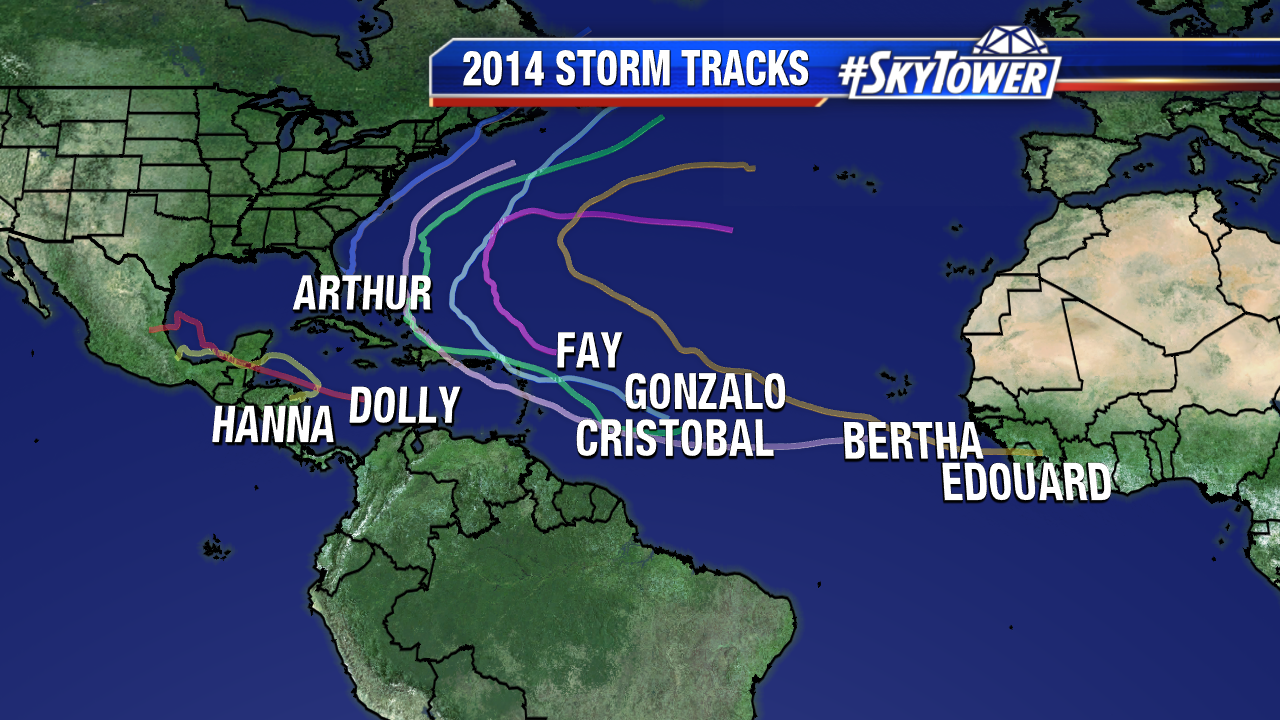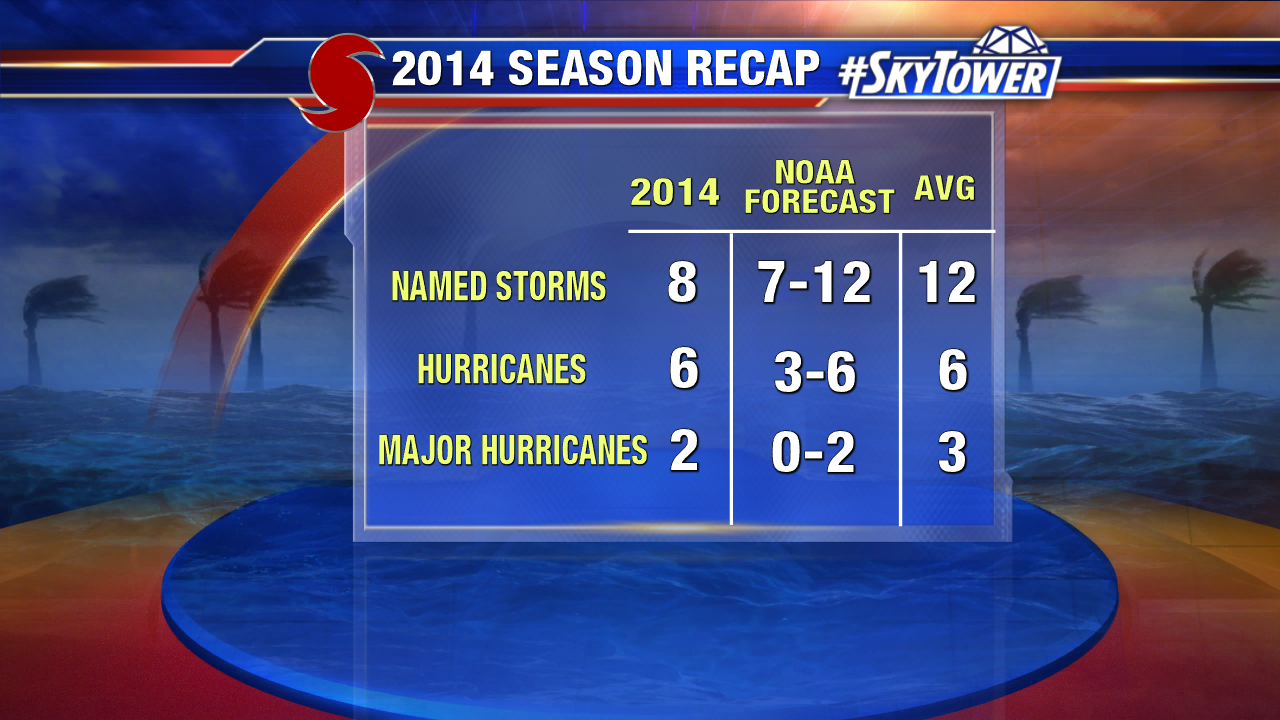 It was a slow start. The odds of a transition to El Niño were high leading up to the season. Upper level winds were hostile in the Caribbean in June and water temperatures were slow to warm (as it typically the case in a favorable El Niño year). The first named storm, Arthur, formed in the southwest Atlantic on July 1st one week behind schedule. Despite delayed named storm formation Arthur strengthened over the Gulf Stream and became the first hurricane of 2014 on July 3rd. The first hurricane in the Atlantic typically doesn't form until August 10th. Arthur officially made landfall between Cape Lookout and Beaufort, North Carolina as a category two hurricane with 100 mph winds. It is the first category two hurricane to strike the U.S. since Hurricane Ike in 2008. 2014 is the 9th year in a row a major hurricane did not make landfall in the U.S. (the last one was Wilma in 2005). Hurricane Arthur is also just one of a handful of hurricane to hit North Carolina in July since 1851.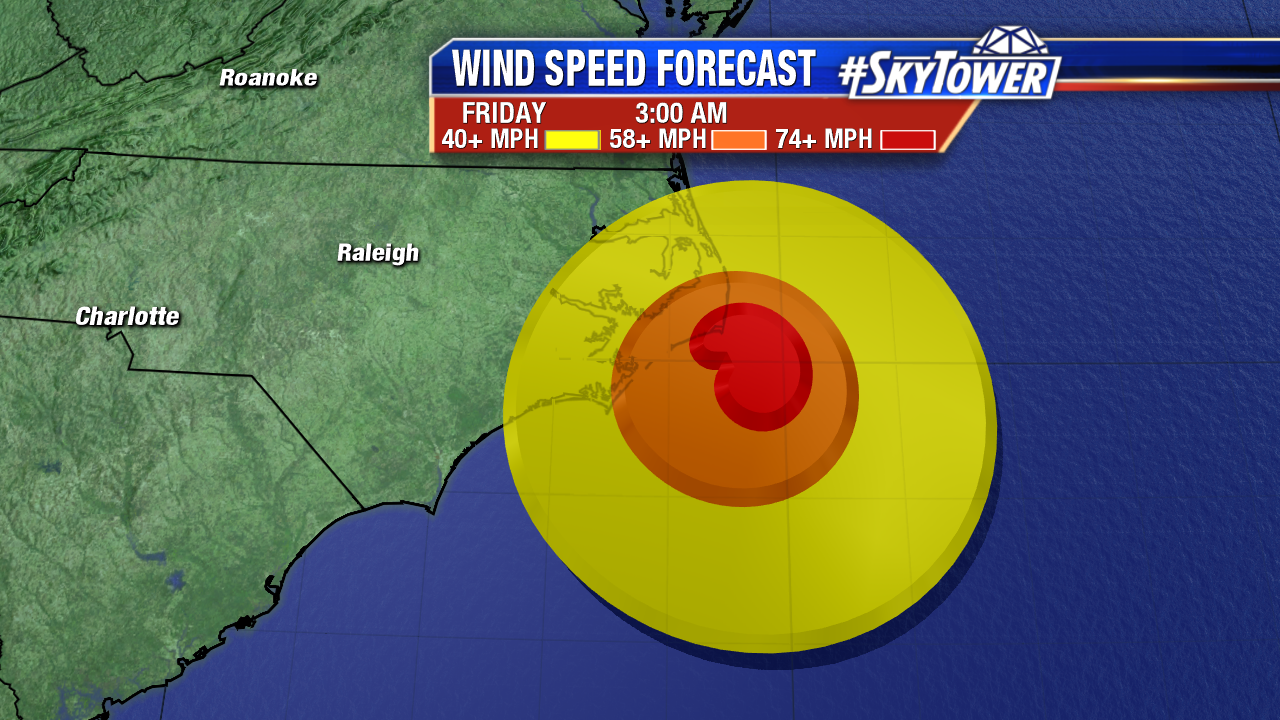 Wind shear values were especially hostile in the Caribbean in July and August too. An active Saharan Air Layer halted Cape Verde Season. Much of this dry, stable air mass lingered in the Caribbean too. The first healthy Cape Verde disturbance, Tropical Depression Two, only survived a few days in the south central Atlantic in late July.It dissipated before it reached the Lesser Antilles. Despite a ragged structure Bertha became the second hurricane of the season on August 4th east of the Bahamas. Tropical waves really struggled in the eastern Atlantic with dry air but late in August the third named storm and third hurricane of the 2014 season, Cristobal, organized between the Lesser Antilles and Africa. It became the third hurricane of 2014 on August 25th. Cristobal drenched Hispaniola, Turks and Caicos and the central and southeast Bahamas.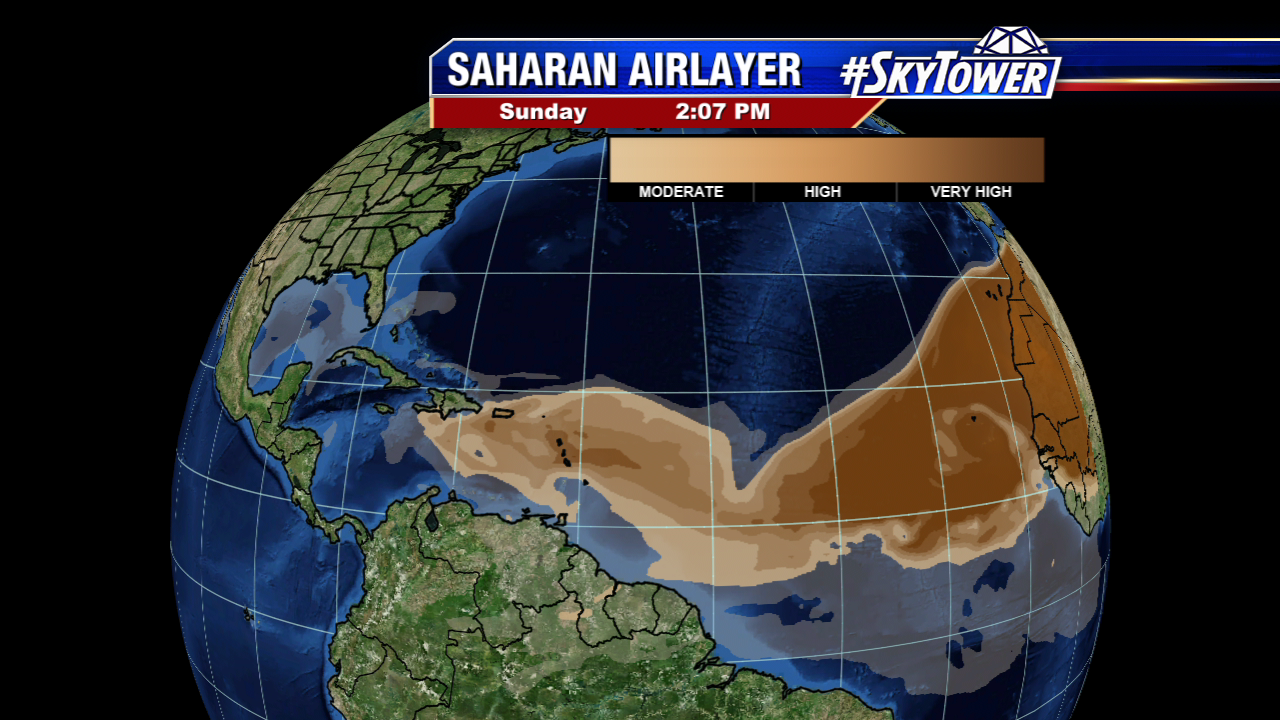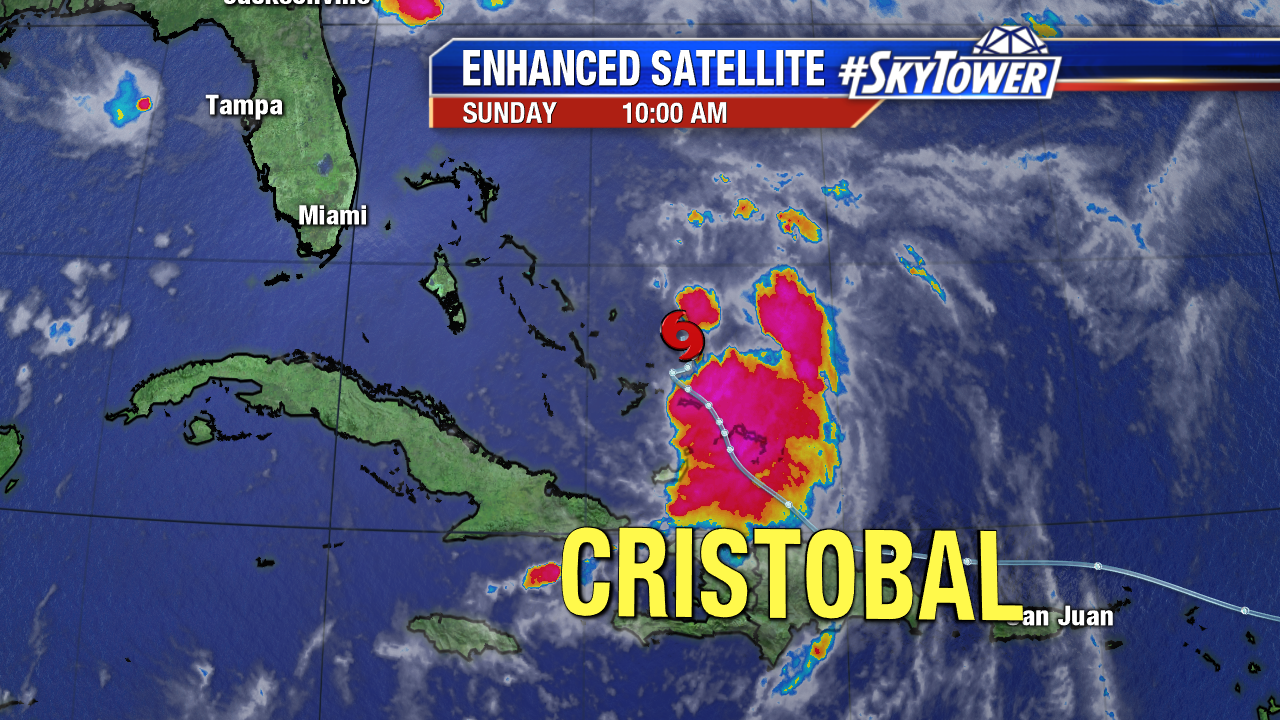 Only two named storms formed in September-Dolly and
Edouard. This puts September 2014 as the second least active September since 1995 (in September 1997 there was just one named storm-Hurricane Erika). Dolly brought catastrophic flooding to Tampico Mexico in early September. Edouard became first major hurricane of 2014 on
September 16th over the open Atlantic. It is the first major
hurricane in the Atlantic Basin since Sandy in October 2012.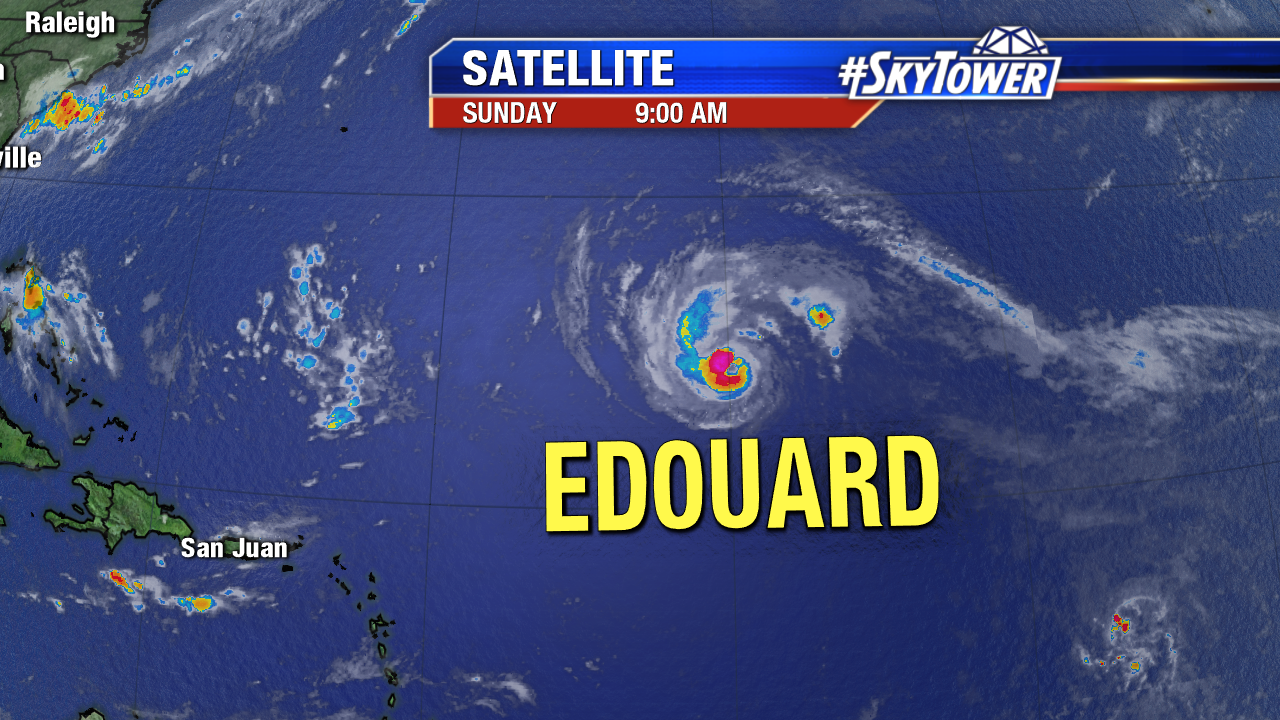 Two strong storms affected Bermuda in October. The sixth named storm of season, Fay, skirt Bermuda with 70 mph winds on October 12th. Fay briefly became the 5th Atlantic hurricane in 2014 before it was absorbed by cold front. Gonzalo is the 6th and strongest hurricane in 2014. It maxed out as a category 4 hurricane on October 15th with winds of 145 mph. This is the first category 4 hurricane in the Atlantic since Ophelia in 2011. Fortunately it weakened to category two strength before a direct hit in Bermuda on October 17th but the storm still brought strong storm surge, heavy rain and wind. Gonzalo also brushed Newfoundland and the remnants brought intense winds to the United Kingdom. Hanna is the last named storms of 2014 and it came as a surprise. The 8th named storm also formed over one month past the climatological norm on September 24th. Just hours after the National Hurricane Center issued a low chance of tropical cyclone development Tropical Depression 8 reformed in the extreme western Caribbean. Tropical Storm Hanna made landfall between Nicaragua and Honduras on October 27th. No named storms formed in November.