Invest 96L tries to reorganize Friday and the odds remain high tropical depression/Tropical Storm Cristobal will form by the weekend. Friday's Hurricane Reconnaisance mission is crucial in helping computer models initialize better.  Enhanced satellite imagery shows the deepest convection near Puerto Rico. The center is likely just northeast of the island. The area of low pressure battles moderate shear and interaction with mountainous Hispaniola, but will have a better opportunity to strengthen near the southeast Bahamas Saturday or Sunday.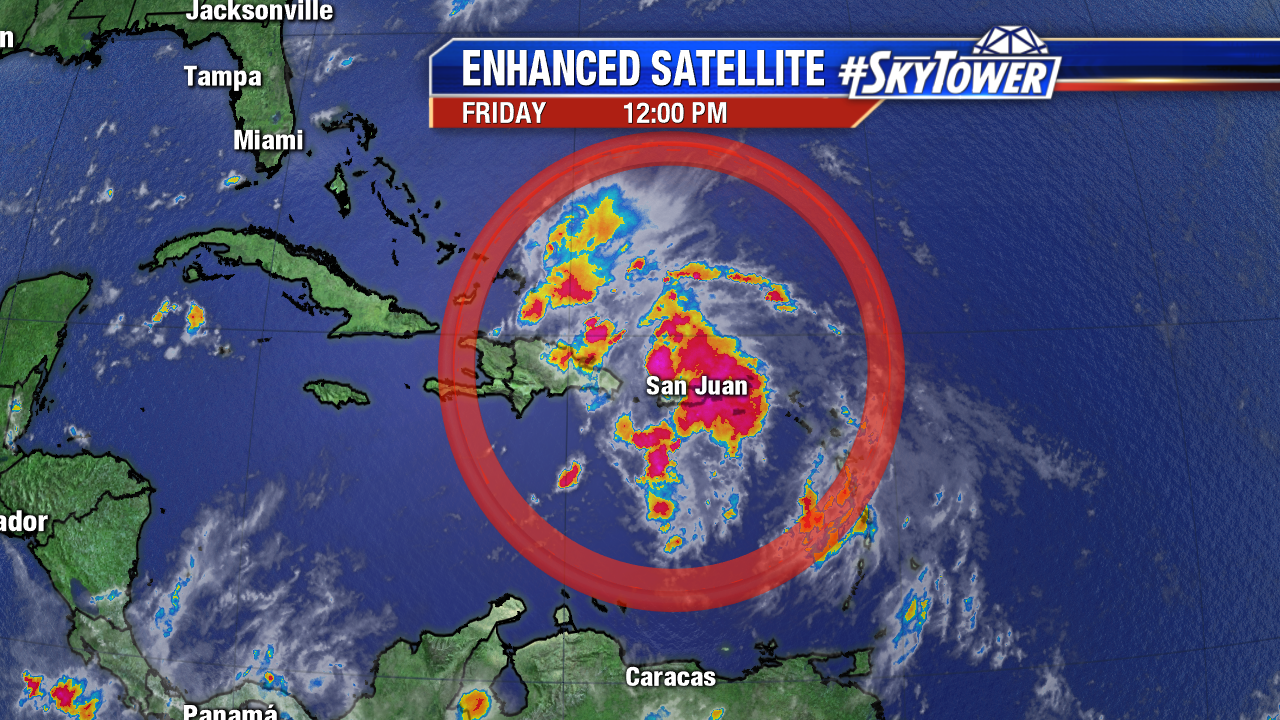 Regardless of tropical cyclone classification Invest 96L will dump heavy rainfall and bring gusty winds to Puerto Rico, the Dominican Republic, Haiti and the Bahamas (especially the southeast Bahamas). The graphic below shows rainfall totals per the GFS model through Friday morning. 5+" is possible in spots. Much of this is welcomed rain after a dry summer but brief flooding is possible.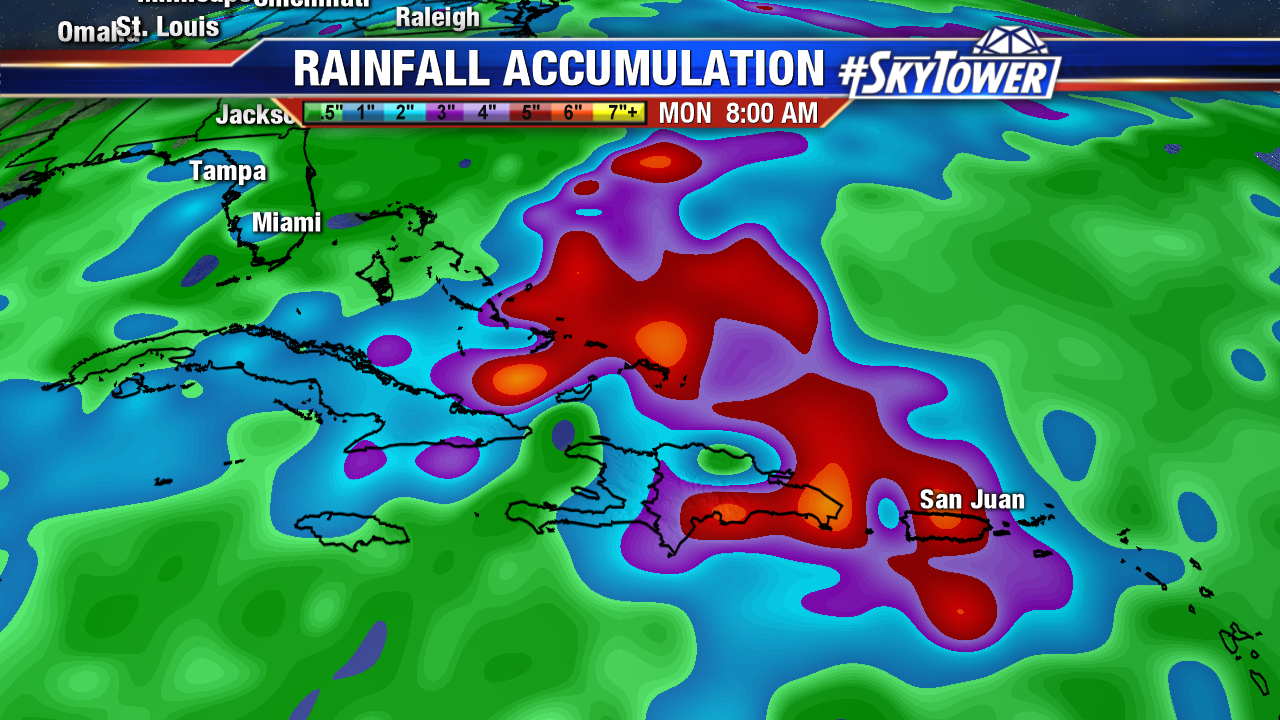 The short-term 12Z model consensus is a west-northwest track towards the southeast Bahamas though Sunday morning. A few outliers suggests the center of Invest 96L is south of Puerto Rico hence a more southerly track. Interaction with Hispaniola could also throw the track off over the weekend. Beyond Sunday morning a trough of low pressure will likely steer possible Tropical Storm Cristobal away from Florida.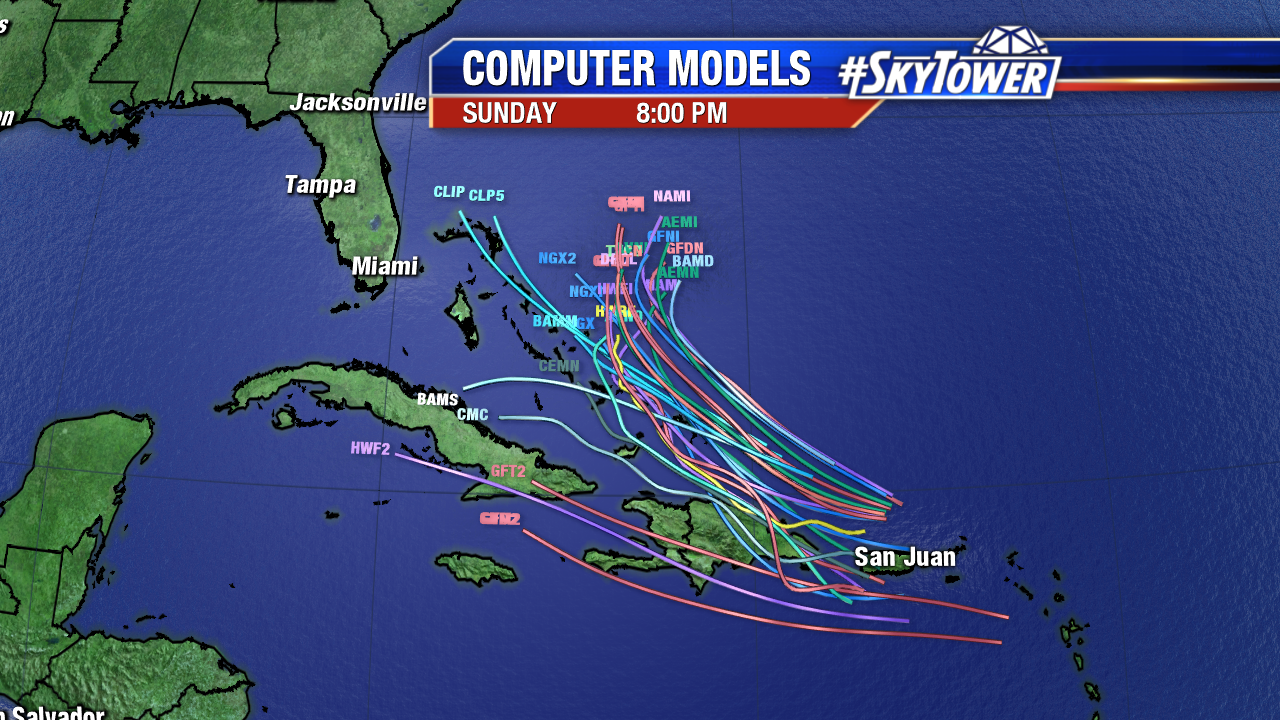 There is less model agreement in the long-range forecast and U.S. impacts are not off the table just yet. Models struggle with the intensity of the east coast trough and strength of high pressure building in. A few more 12Z models suggest a track closer to the U.S. than previous runs. This is a trend needs to be monitored. The majority of models shows a track paralleling the southeast Bahamas Sunday followed by a north-northwest track between the U.S. and Bermuda Monday-Thursday. Stay tuned.