Hurricane Gert has maintained category 1 hurricane strength for 24 hours as of 5 PM Tuesday. The second hurricane of the 2017 Atlantic season formed about two weeks ahead of schedule. Climatologically, the second hurricane of the Atlantic season forms on August 28th. Gert strengthens some Tuesday afternoon. As of 5pm max sustained winds top out at 80 mph and pressure is down to 981 mph. Enhanced satellite imagery shows the hurricane is elongated some from north to south due to moderate north/northwesterly shear. Visible satellite imagery showed hints of an eye Tuesday afternoon. Gert passes between the U.S. and Bermuda Wednesday as a stronger category 1 hurricane. It will transition to post tropical system over cooler north Atlantic waters by Friday.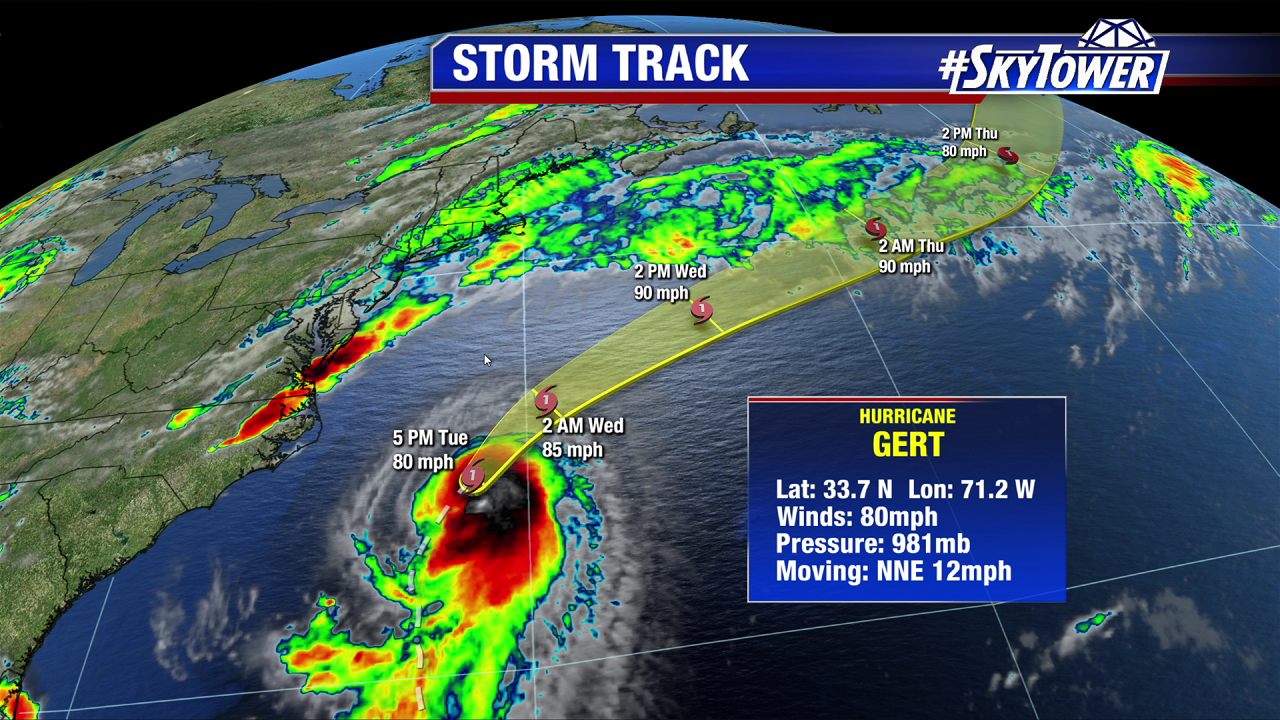 While Gert passes safely east of the eastern U.S., surf builds northward through mid-week. The risk for rip currents increases at Mid Atlantic and Northeast U.S. beaches.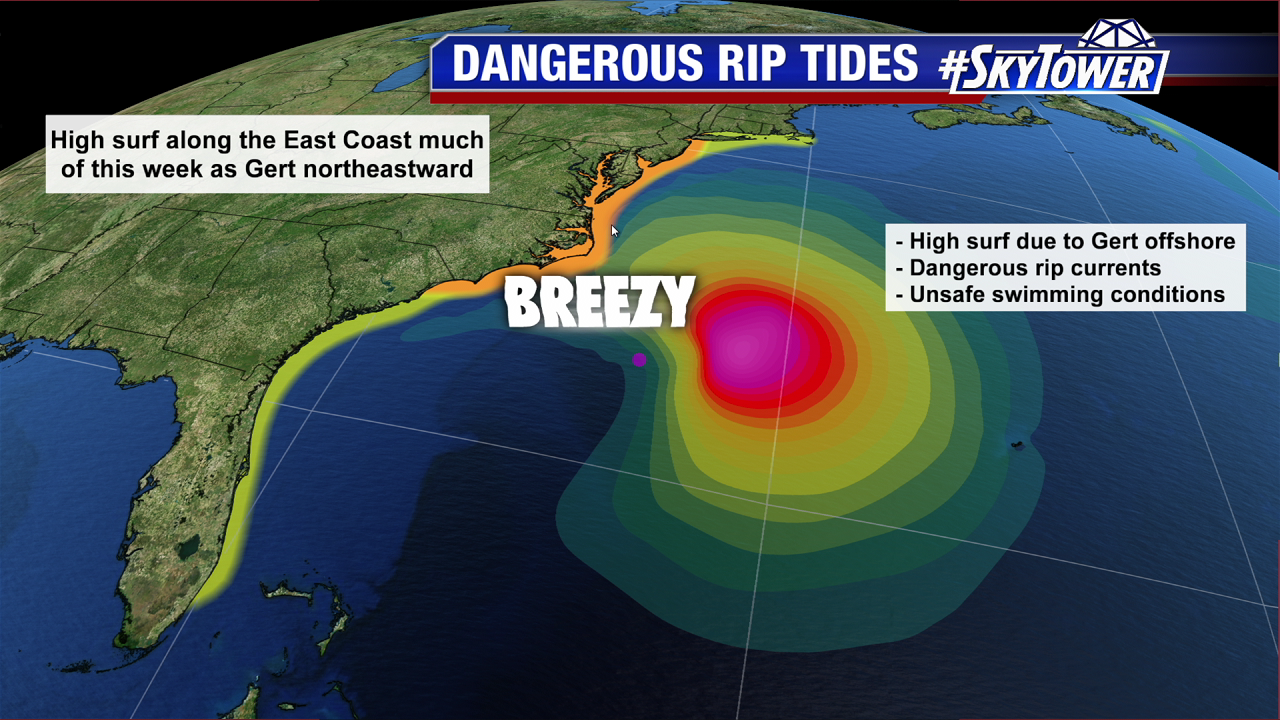 Behind Gert are three areas of interest in the Atlantic. The African wave train is in full swing and there are a few areas to watch through next week. As of Tuesday afternoon there is a medium chance Invest 91L and Invest 92L develop over the next 5 days. Another tropical wave near Africa has a low chance of developing over the next 5 days.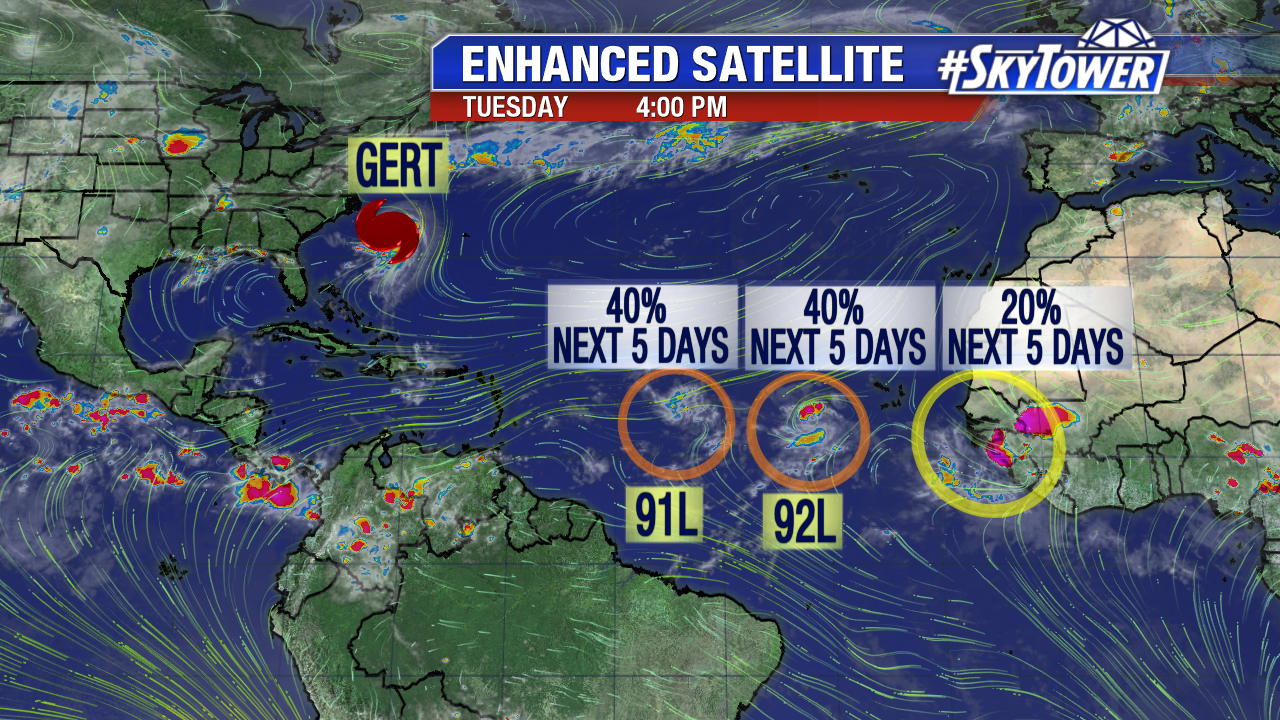 The odds of tropical depression development have dropped some for Invest 91L.  Computer models have back off some on development as there is some dry Saharan air nearby. The graphic below is courtesy NOAA/The University of Wisconsin. The 12Z European model suggests a weak tropical storm may approach the Lesser Antilles by Friday. The model shows the system weakening further as it moves westward through the Caribbean. The latest GFS shows a weak tropical storm will also form Wednesday or Thursday before it approaches the eastern Caribbean. This run is much further south than previous runs with a path through the Caribbean too. Model consensus is pretty good that Invest 91L will headed due west into the Caribbean.
Meanwhile confidence increases some that newly pinned Invest 92L will develop into a named storm. 12Z models take this disturbance more northwesterly. Some as a possible strengthening hurricane. As of now, this path is east of the U.S.. Stay tuned. The next named storms are Harvey, Irma and Jose.