It's been a busy weekend in the Atlantic Basin. Two areas of interest organize Sunday. Invest 93L produces winds up to 40 mph Sunday afternoon, but it is still a broad area of low pressure east of the Yucatan. Convection has decreased since Sunday morning as wind shear increases near the Yucatan Channel.  Sunday's Hurricane Hunter mission was cancelled, but it is rescheduled for Monday. Once the disturbance exits the Yucatan it will tap into the warm Gulf of Mexico waters. It could become a named storm during this time. Wind shear will be a constant battle for likely future Tropical Storm Bret or Cindy. This westerly shear will displace the deepest convection/heaviest rain east of its center. This is a pretty common structure for sheared June named storms. None of the intensity models suggest more than a weak tropical storm. There will be plenty of deep tropical moisture, so heavy rain is the primary threat.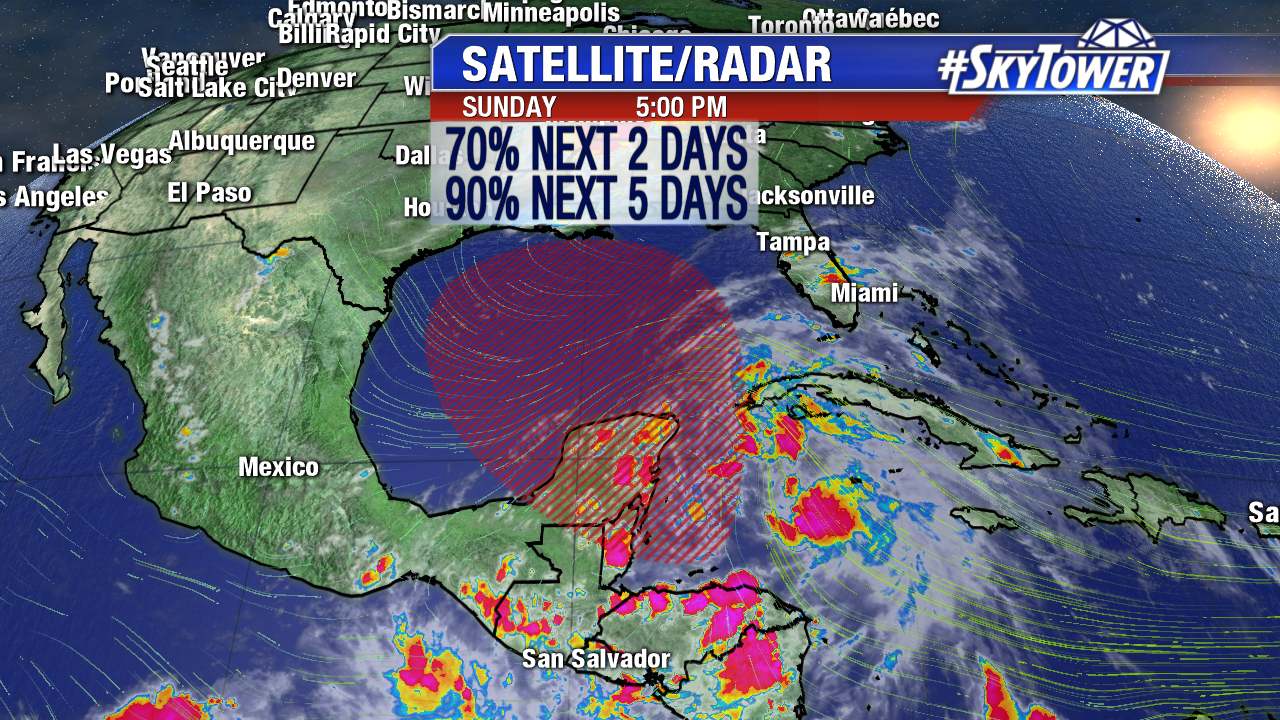 Until there is a center of circulation, computer models will continue struggle with its future track. All areas from coastal Texas to Florida need to stay alert through mid-week. The European model continues to track Invest 93L the furthest west near the Texas/Mexico border Thursday morning. The GFS is trending a bit further west Sunday too. As of Sunday afternoon, it is steering away from a Florida Panhandle landfall. The 18Z run brings a weak tropical storm into coastal Louisiana Thursday morning. We will see if this westward trend continues. If that is the case, less heavy rain is expected through parts of Florida.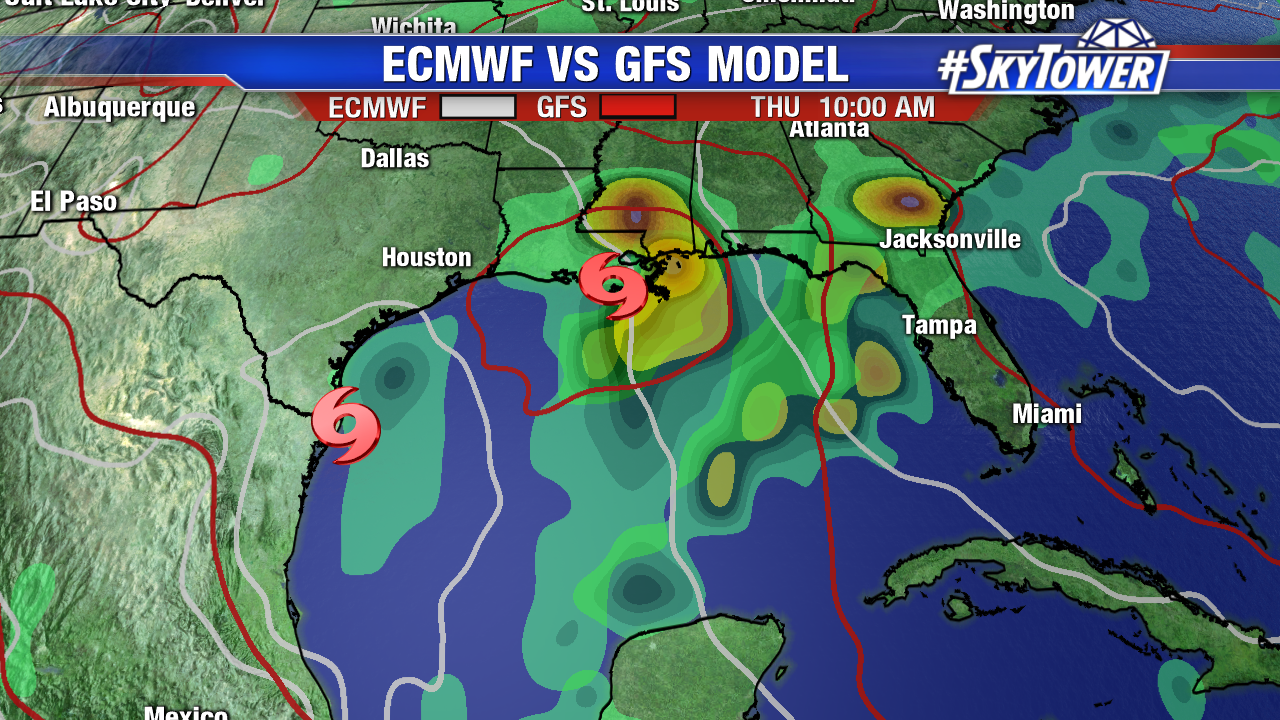 The Weather Prediction Center shows the potential for flooding/heavy rain for parts of the northern Gulf coast through the end of the week. It is in line with the slight westward shift in models Sunday. It paints a bullseye of 5-6″+ for portions of coastal Louisiana, southern Alabama, and southern Mississippi. These rainfall estimates are subject to change, once we get a better grasp on the future track of Invest 93L.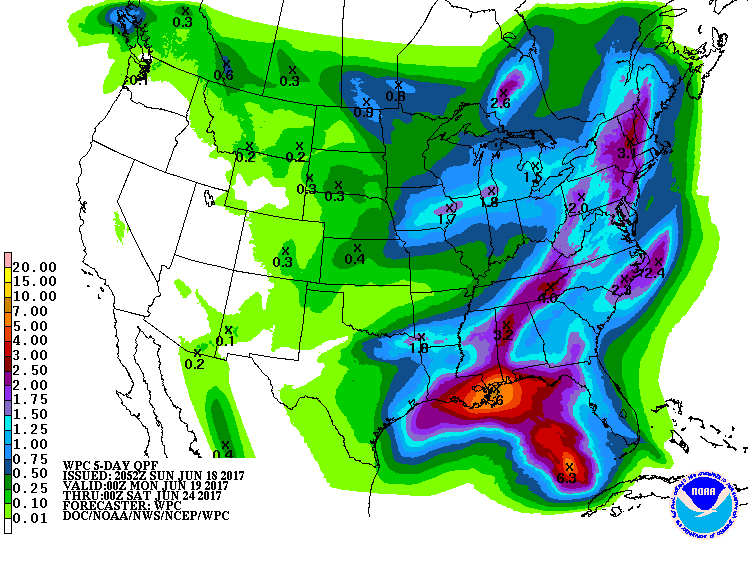 A tropical cyclone is also likely to form about 800 miles south/southeast of the southern Windward Islands. Convection has consolidated and winds top out at 35 mph Sunday afternoon. To better prepare residents in the storms path, a Tropical Storm Warning has been issued for Barbados, St. Vincent and the Grenadines. This is new from the National Hurricane Center in 2017. Advisories are issued before a tropical cyclone forms this year.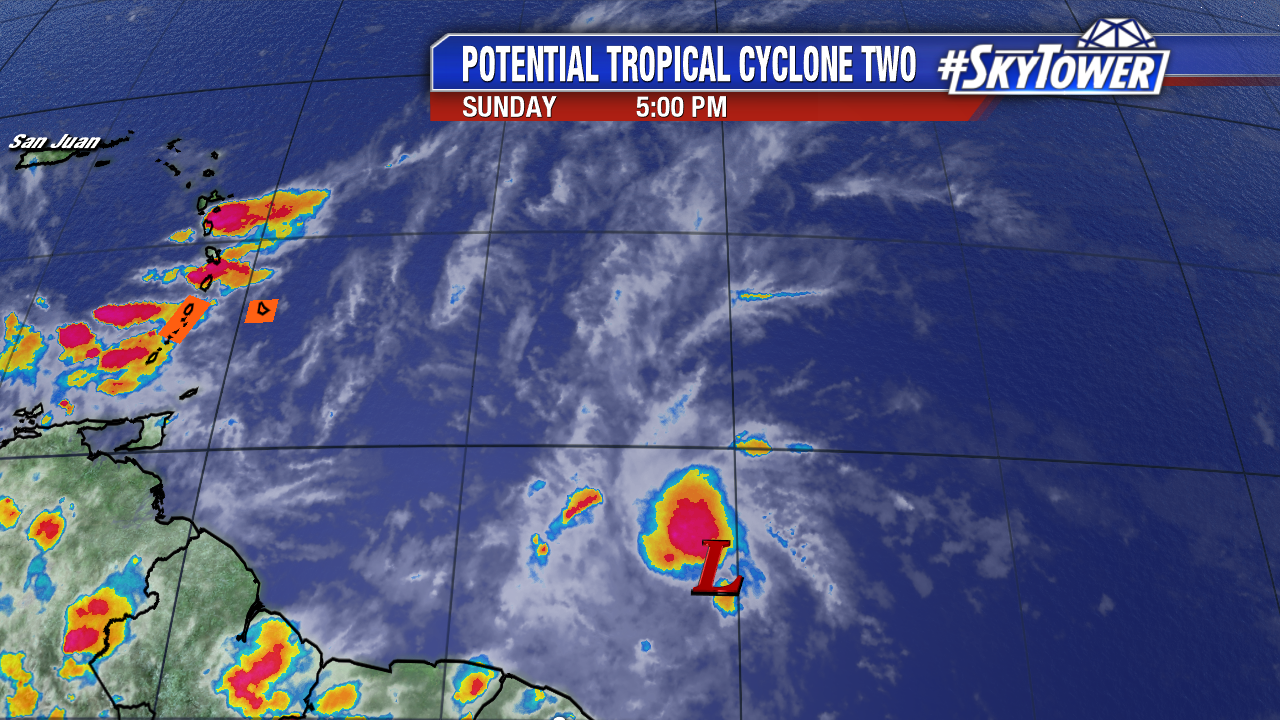 Here's what the 5 PM potential track looks like. Tropical Storm conditions are possible by Tuesday in the Windward Islands. Squalls will also reach Venezuela, Trinidad and Tobago. Interaction with land will disrupt the tiny storm. Wind shear will also increase in the days ahead. This could cause future Tropical Storm Bret or Cindy to dissipate, or at least weaken in the Caribbean by mid-week.