The area of disturbed weather we've been watching  east of the Bahamas and northeast of Turks and Caicos, Invest 99L, shows signs of life Tuesday. Convection is scattered and disorganized but has increased some since Monday. Further organization is likely mid to late work week as the area of low pressure lifts northward. Invest 99L may gain at least some tropical features during this time. As of Tuesday afternoon the odds of subtropical/tropical depression development sit at 80% the next 5 days. A hurricane reconnaissance aircraft may investigate the area of low pressure Wednesday, if necessary.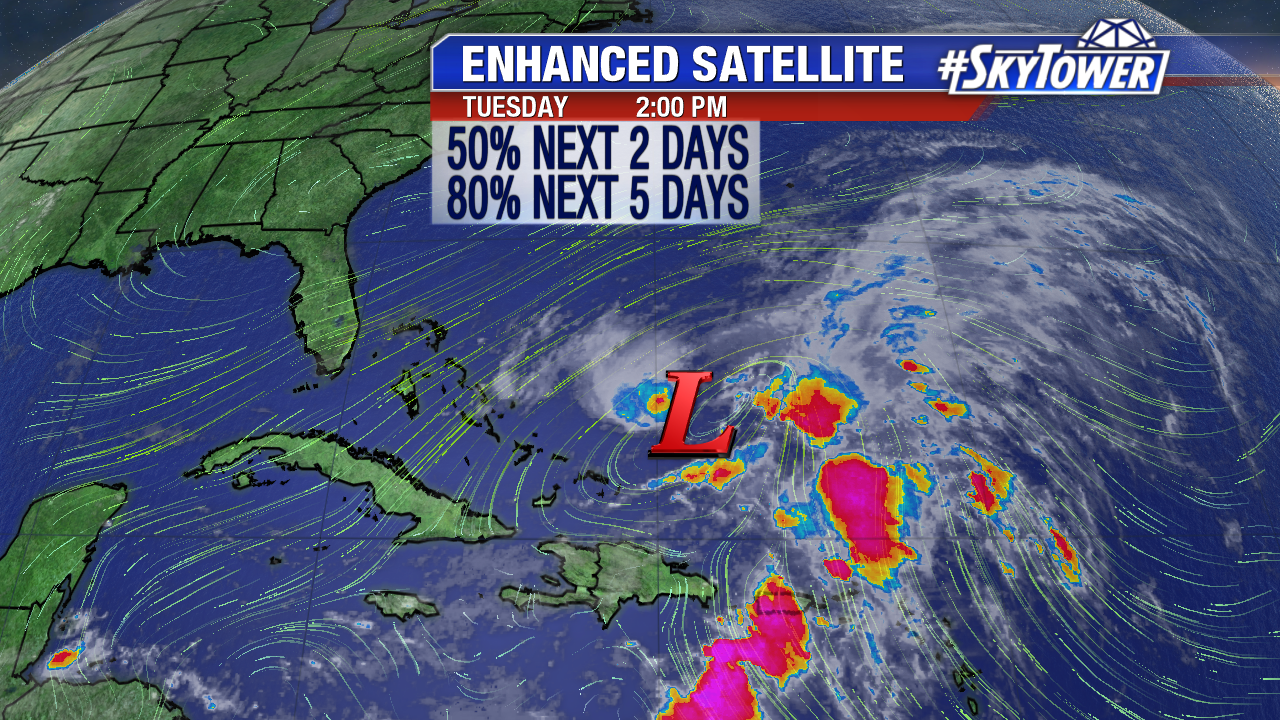 Invest 99L will battle hostile upper level winds in the days ahead. On Tuesday high southwesterly shear keeps the area of low pressure broad in nature. This is indicated by the red unfavorable color on the graphic below courtesy the University of Wisconsin/NOAA.The disturbance moves northwestward into a region of slightly lower wind shear late Wednesday and Thursday. Notice the yellow and green area of moderate 10-20 kt shear. This in the most likely time frame for a subtropical or tropical disturbance to form. Otto is the next named storm.
Computer models suggest a brief northwest track west of Bermuda and well east of the U.S. through Thursday. By Friday a strong trough/cold front will guide the disturbance away from New England. The frontal system may merge with the possible tropical low near or just east the Canadian Maritimes this weekend.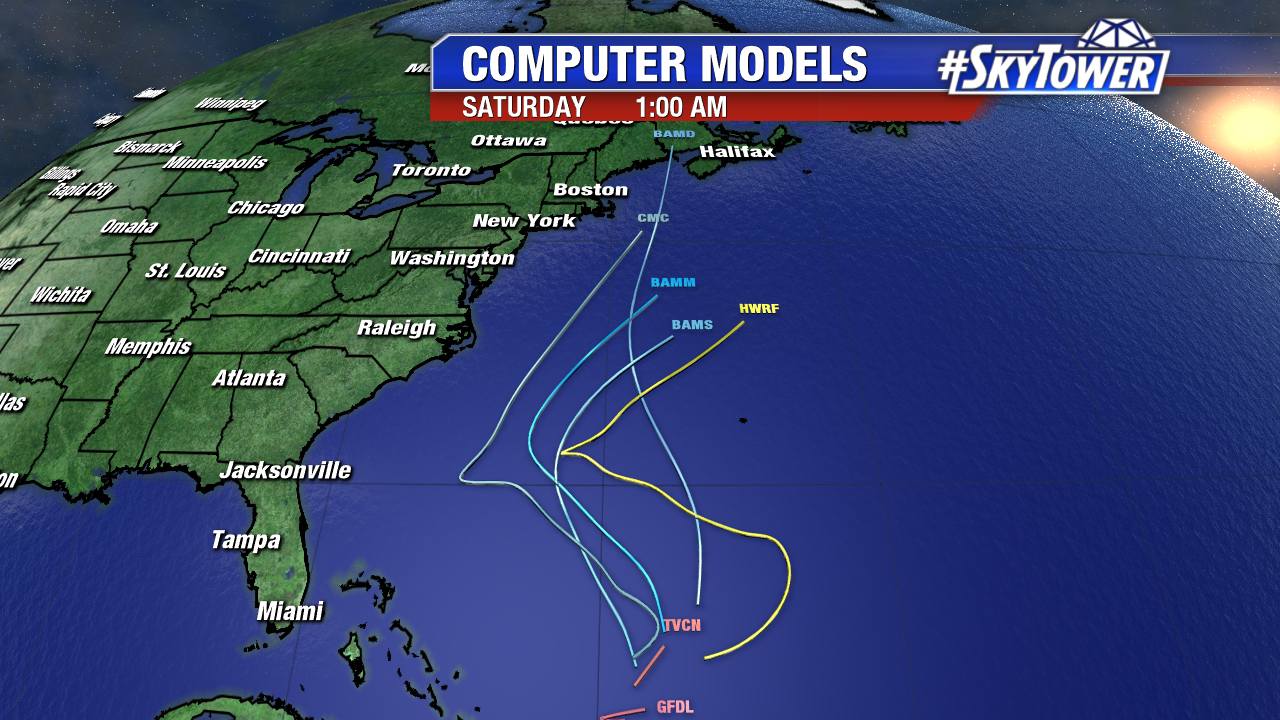 Both the European and GFS model keep Invest 99L east of the U.S.. Both models show the possible tropical/subtropical low merges with a cold front Friday or Saturday. This would put an end to any tropical characteristics. The European model shows the frontal system and area low pressure combine late Friday or early Saturday offshore of New England. Nonetheless, it is going to be a cool and damp Friday and weekend in the Northeast.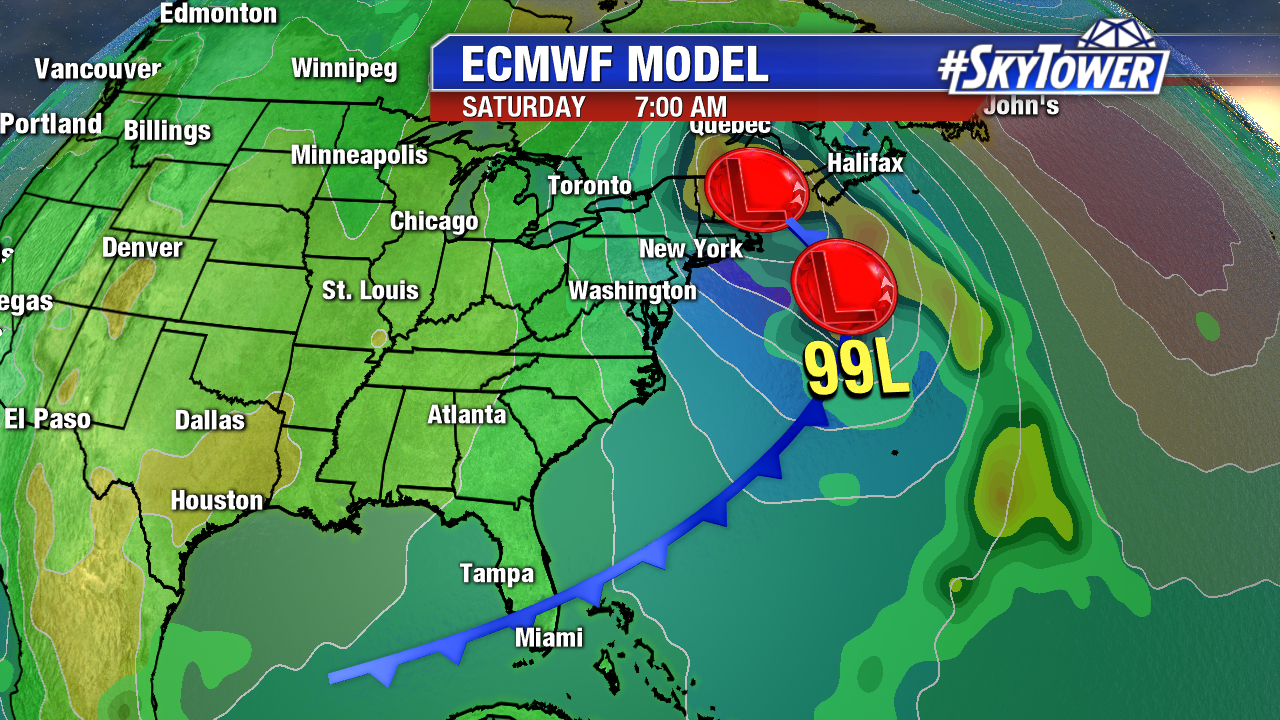 Elsewhere, Nicole became post-tropical over the north Atlantic south of Greenland early Tuesday. Nicole was a tropical cyclone for 2 weeks. This is highly unusual in the north Atlantic in October.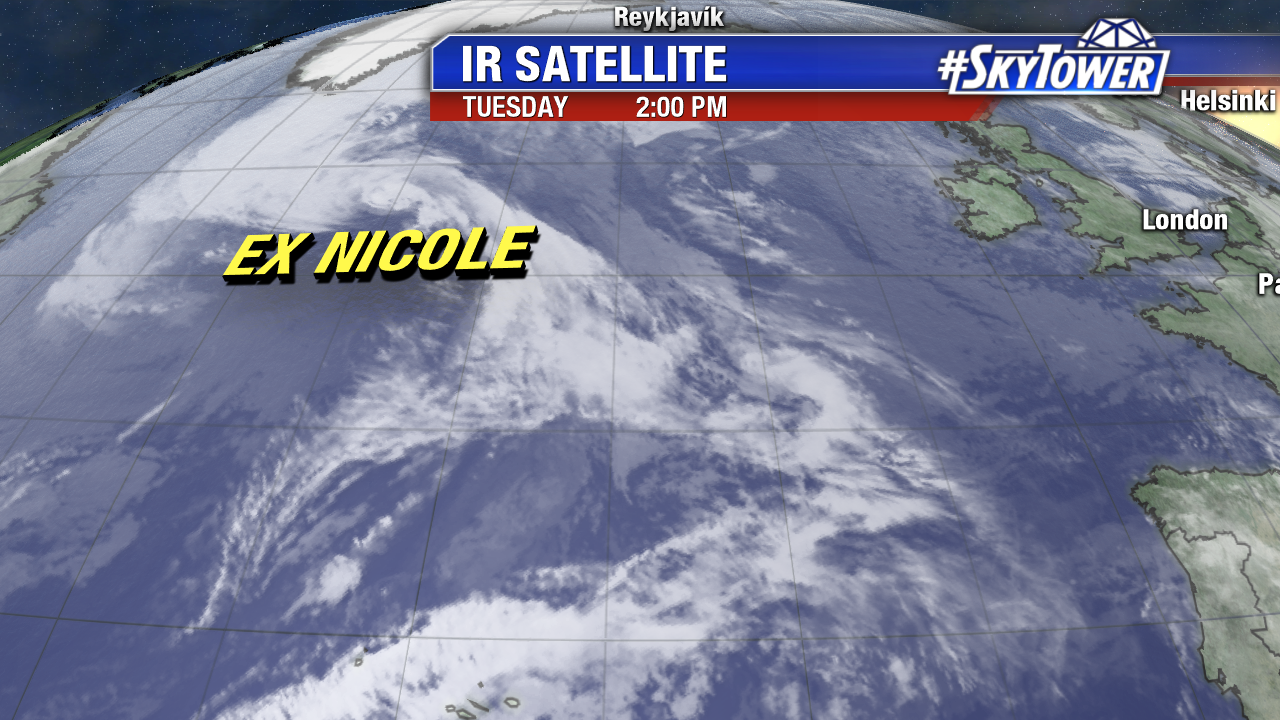 Across the globe Super Typhoon Haima takes aim at the Philippines mid-week. As of Tuesday afternoon the powerful highly organized system has winds comparable to a category 5 hurricane.  Only slight weakening is expected before landfall. The massive super typhoon has an  impressive and large wind field. Hurricane force winds extend out 60 miles northeast of its center.  Heavy rain and the strongest winds will batter the central and north Philippines Wednesday (U.S. time). Waves may build up to 40 feet.