It's official. Tropical Depression 3 forms at 11 AM EDT near the Yucatan. A huge burst of deep convection sits over the Yucatan channel. Buoy data in this region shows a wind gust of 38 mph at 10 AM EDT and the NHC pulled the trigger on an update. Tropical Storm Colin is likely to form late Sunday and tropical storm warnings are in effect on the west coast of Florida from Indian Pass-Englewood . Hurricane reconnaissance aircraft will investigate the complex of showers and storms Sunday afternoon. The official forecast calls for landfall Monday night with 50 mph winds between Panama City and Cedar Key Florida.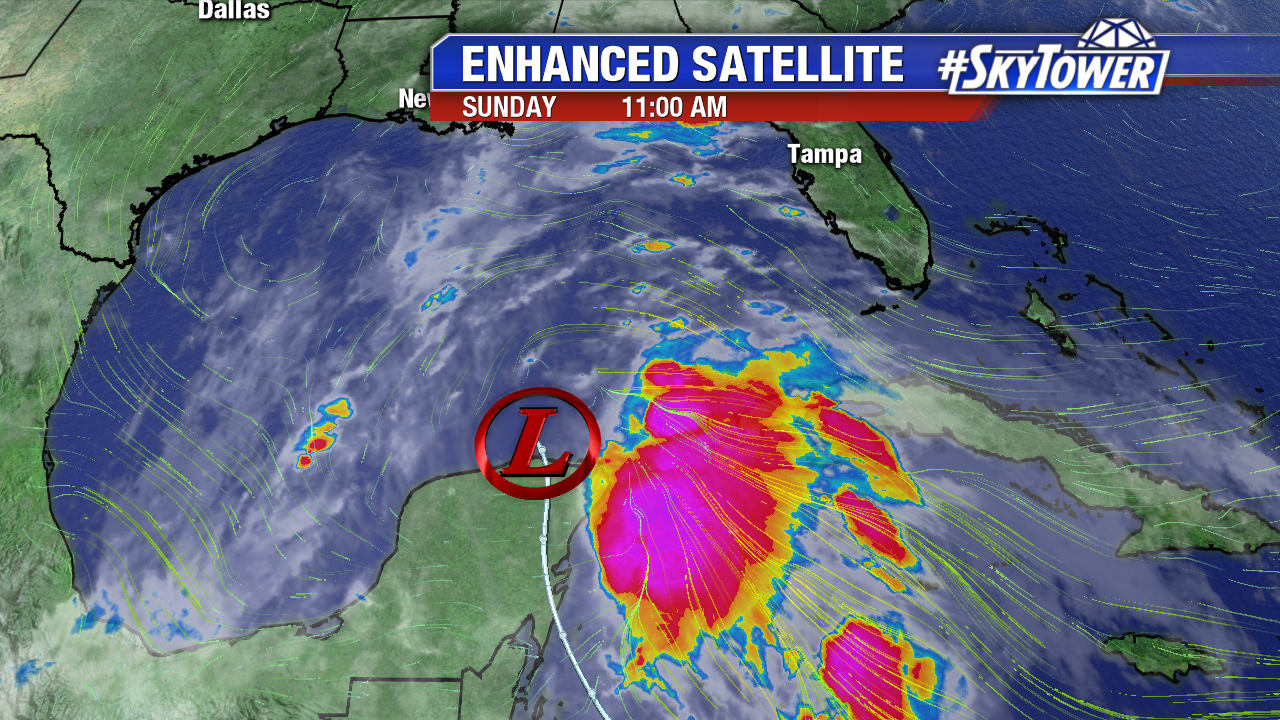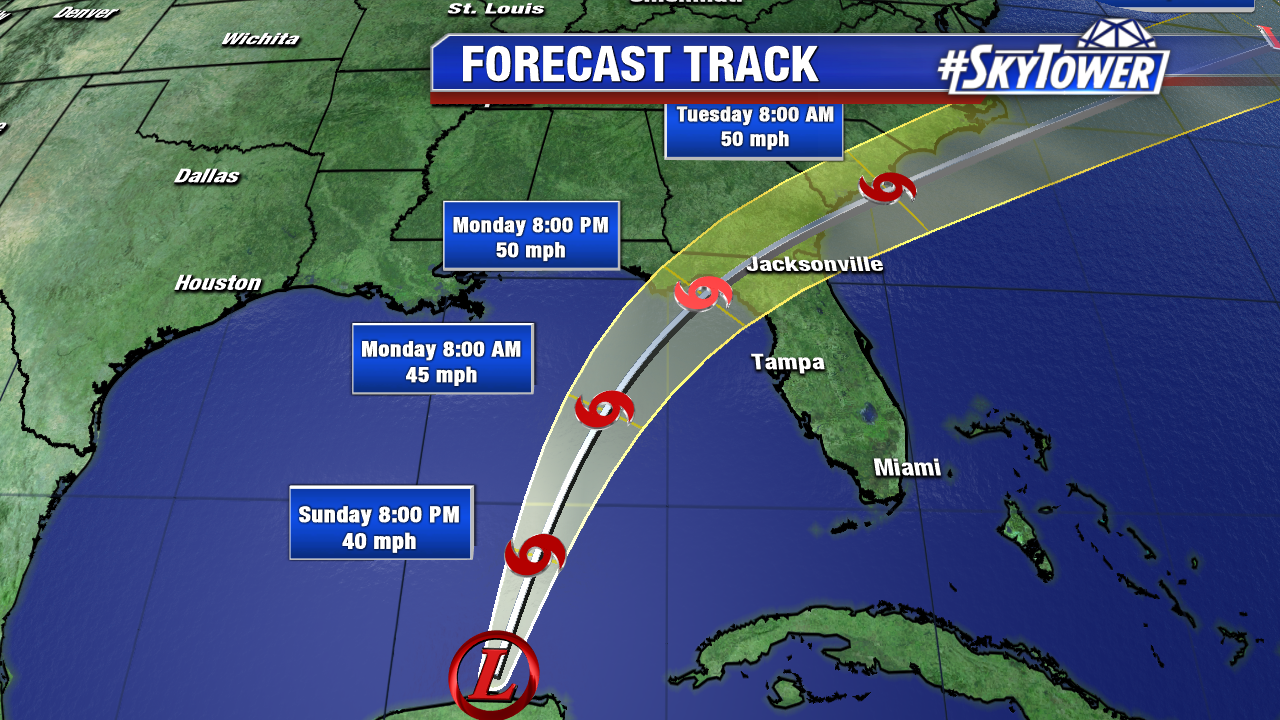 Data from Sunday's hurricane hunter mission is crucial. It will help computer models initialize better and give us a more accurate landfall location late Monday/Tuesday. Models have been incredibly consistent on landfall on Florida's west coast. Early Sunday morning computer models continue to focus in on a region north of Tampa Bay from the Big Bend or just north in the Panhandle. Wind shear will be a constant battle for the future Tropical Storm Colin. This will inhibit rapid strengthening. Most intensity models bring either a tropical depression or a weak tropical storm to Florida. The Euro continues to trend north and brings a weak Tropical Storm Colin over the Panhandle Monday night. Meanwhile the GFS brings a borderline tropical depression or weak Tropical Storm Colin inland a tad further south over Florida's Big Bend Monday night into Tuesday. Continues gradually improve for Florida throughout the day Tuesday as low pressure combines with a frontal system and races north and east away from the state.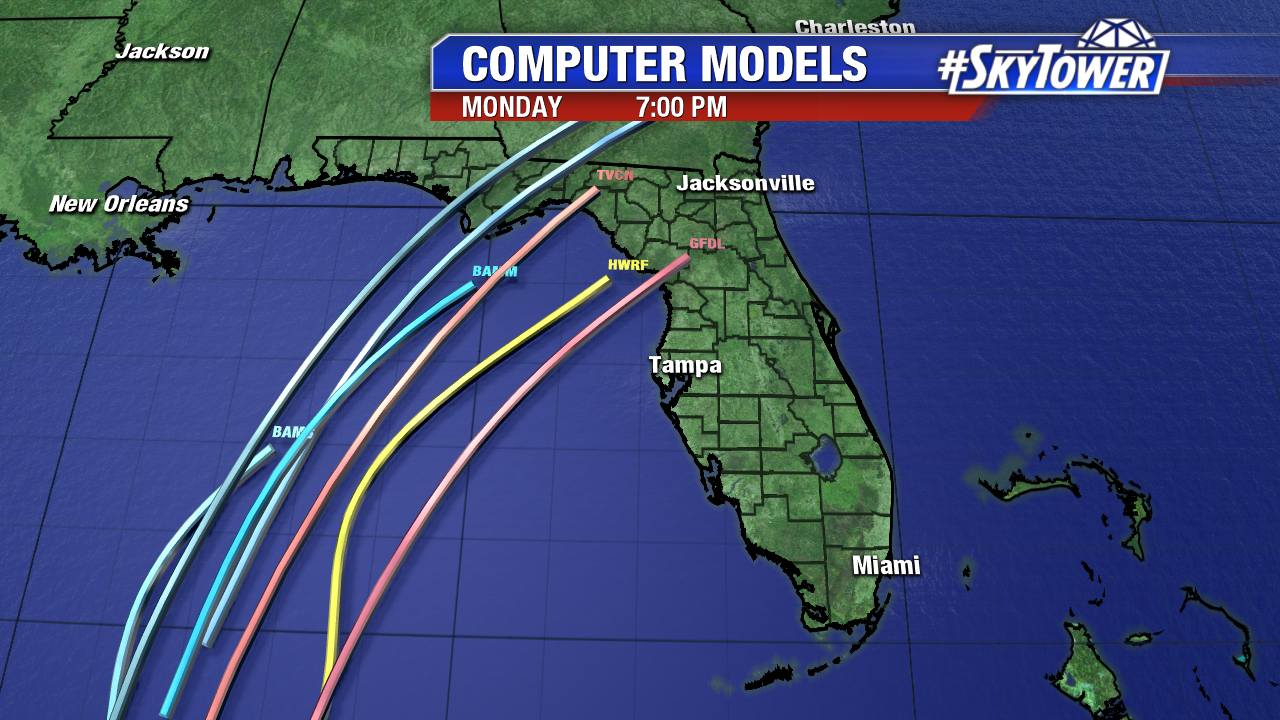 The main impact for north central and central Florida is very heavy rainfall in bands that move onshore. The heaviest rain will likely be on the east side of the likely sheared storm. Coastal counties in Tampa Bay (especially north) will pick up the most rain/have the greatest risk for localized flooding. The Euro is still bullish on rainfall totals but the GFS (shown below) suggests 4-6″+ is possible for these areas. Inland locations will see much less rainfall and less wind too. Embedded in gusty bands of rain will be a few tornadoes and waterspouts late Monday and early Tuesday. Winds will pick up throughout the day Monday and Monday night with gusts in excess of 40 mph. Winds veer southwest/west as Tropical Storm Colin exits Florida Tuesday. Winds gradually die down throughout the day.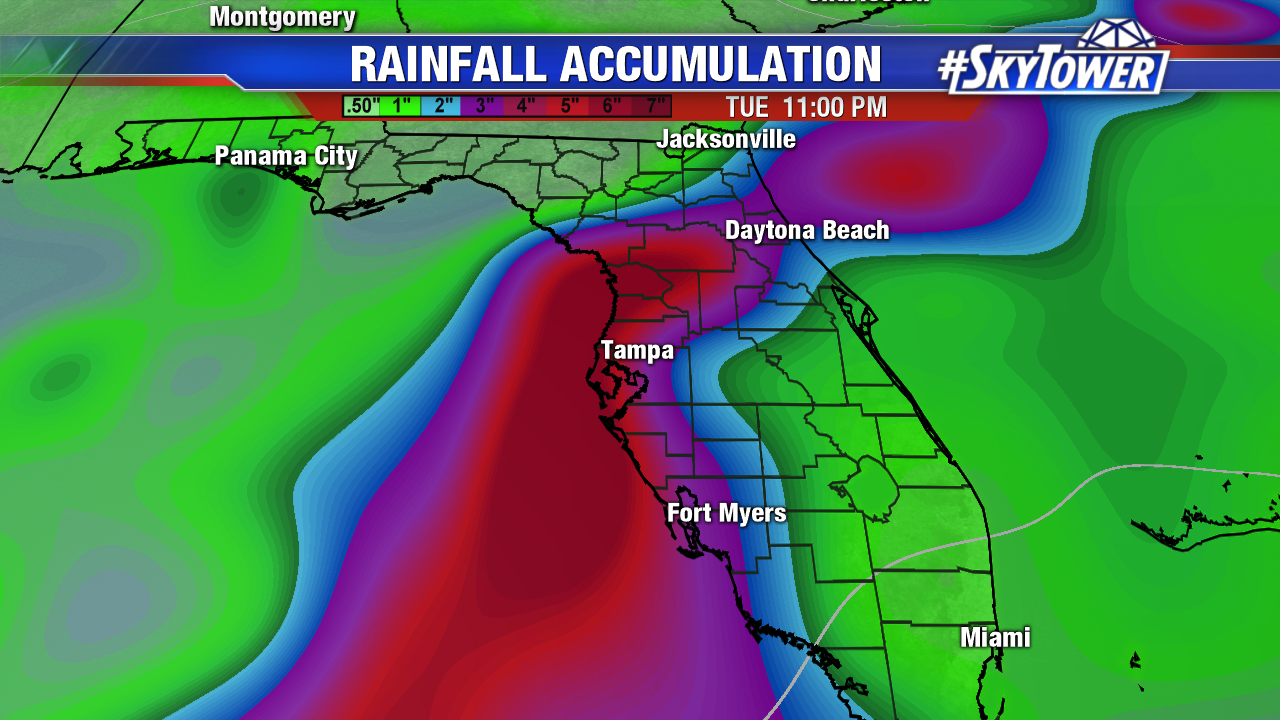 Wave heights build near Tampa Bay late Monday up to 12-15 ft offshore (according the Wave Watch model). Coastal flooding is also possible during high tide Monday afternoon and Tuesday morning. High tide will be running a bit above average on St. Pete Pier due to the new moon phase. High tides are at 2:44 PM EDT Monday and 6:00 AM EDT Tuesday. A storm surge of 1-3 feet is possible from Tampa Bay north to Indian Pass. A storm surge of 1-2 feet is possible south of Tampa Bay to Englewood.