The fourth named storm of the Atlantic season, Dorian, forms late Wednesday morning west of the Cape Verde Islands. The fourth named storm typically doesn't form until August 23rd. Showers and thunderstorms have deepened near its center and winds increased to 50 mph. Dorian has the opportunity to strengthen during the next 24 hrs as it has closed off on dry air and wind shear is favorable. Late Thursday and Friday Dorian moves through slightly cooler Atlantic waters. It will also encounter dry air from the Saharan Air Layer (SAL) during this time frame which should weaken the tropical storm somewhat.
The graphic below shows forecasted Atlantic Ocean temperatures. Right now Dorian is in a region where the tempearture is near 80 degree. Notice the yellow color draped across the south central Atlantic. That indicates tempeartures near 76-80 degrees. Dorian moves through this area late work week. Over the weekend Atlantic temperatures climb to 80 degrees+. While Dorian could strengthen during this time, wind shear will increase and could limit this possiblity.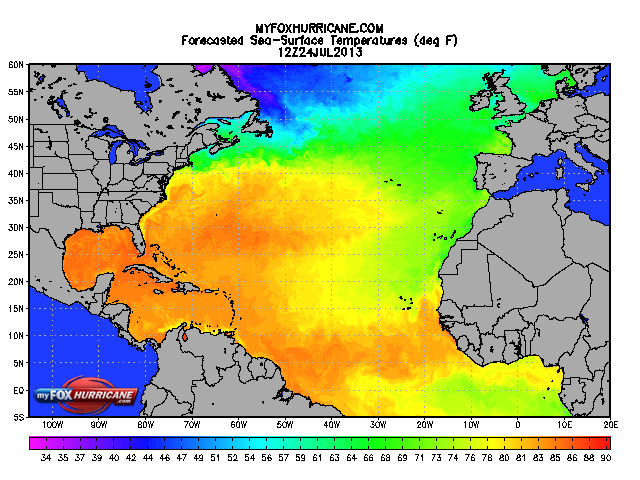 So far this Atlantic season dry air from the Saharan Air Layer (SAL) makes it difficult for tropical waves to organize near Africa. This could play a role in the long term strength of Dorian. Notice the deep dry air directly in Dorian's its path to the west. The graphic below is courtesy of the University of Wisconsin.

Computer models are in good agreement on the future track of Dorian as it moves west northwest steered by the subtropical ridge. Dorian will spend at least four more days over the eastern Atlantic. The eastern Caribbean including the Lesser Antilles could see squalls and tropical storm force winds as early as Sunday.